Plant-Based Protein Market Drivers, Innovation
Plant-Based Protein Market Drivers, Innovation
There are several factors driving consumers to plant proteins, including increased concern for personal well-being, as well as the concern for animals and the environment.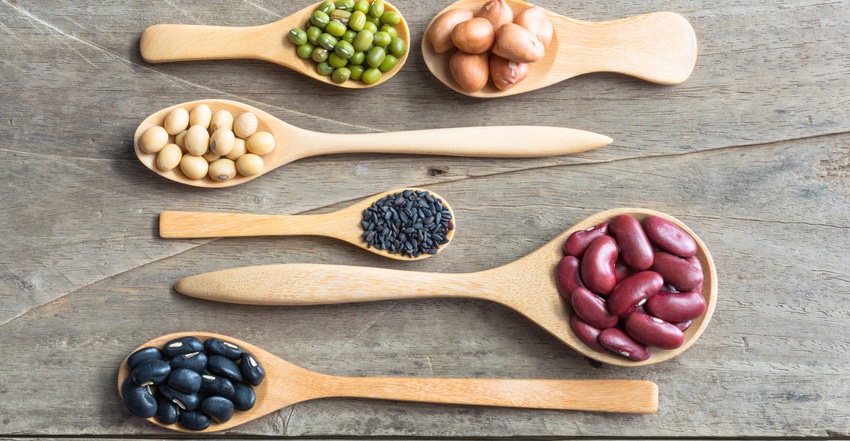 Proteins are important building blocks of the body. They are necessary for the proper growth and function of the body and play a vital role in building and maintaining muscles, organs and other tissues. Proteins aid in digestion and metabolism, and promote improved cell function. In short, proteins are essential to human health—and consumers are aware of this. As a result, protein powder, an ingredient once relegated to bodybuilders, has achieved mainstream popularity. It is now being sought by a broad range of consumers, from individuals aiming to maintain a healthy lifestyle to vegetarians seeking protein supplementation. This is not just a passing fad. Consumers are becoming increasingly concerned about their overall health and wellness, and research supporting the benefits of protein is consistently being published.
Whey protein established the protein powder category a couple of decades ago and has dominated it ever since. However, as more mainstream consumers have entered the market, plant-based proteins have gained market share in recent years and will continue to do so. According to Cambridge Commodities, sales of plant proteins reached US$7.67 billion in 2017 and are expected to reach $10 billion by 2020. Soy protein was the first popular plant-based protein in the market, which is not surprising considering the reputation of soy milk and tofu as vegan alternatives to animal-derived products. From there, pea protein and rice protein became the next big plant proteins. Now, with the current mainstream popularity of pulses and seeds, it only makes sense that protein concentrates from these sources are becoming increasingly popular, such as fava bean, lentil, lupine and pumpkin seed.
There are several factors driving consumers to plant proteins, including increased concern for personal well-being, as well as the concern for animals and the environment. Which factor contributes the most typically depends on the type of consumer. For instance, concern for personal well-being resonates with bodybuilders, who value the amino acid profile of the protein.
A point of confusion with protein fortification is what exactly is considered a complete protein. Some believe a complete protein contains all nine essential amino acids—period. Others believe a complete protein contains all nine essential amino acids at "sufficient amounts." FDA has yet to establish these "sufficient amounts," causing a wide array of numbers across the industry. The Institute of Medicine's (IOM) Food and Nutrition Board has established its own, along with the World Health Organization (WHO).
Dairy proteins offer improved overall amino acid profiles and digestibility compared to plant-based proteins. Though most plant proteins still contain a good amount of all essential amino acids, they are just lower in one or more essential amino acids, such as lysine. In addition, plant-based proteins offer other nutrients that dairy proteins do not. For instance, fava bean protein and pumpkin seed protein still contain all nine essential amino acids, as well as other beneficial nutrients like iron and fiber.
Dairy proteins are increasingly faced with concerns over sustainability and the environment due to the large amount of resources needed to raise cattle and livestock. According to research done by David Pimentel of Cornell University's College of Agriculture and Life Sciences, "Animal protein production requires more than eight times as much fossil-fuel energy than production of plant protein while yielding animal protein that is only 1.4 times more nutritious for humans than the comparable amount of plant protein. … Animal agriculture is a leading consumer of water resources in the United States. Grain-fed beef production takes 100,000 liters of water for every kilogram of food. … In comparison, soybean production uses 2,000 liters for kilogram of food produced." Bodybuilders usually do not put weight on that aspect when selecting a protein, but vegetarians do as sustainability is generally a top priority.
As of right now, consumers who are particularly conscious of their consumption habits—bodybuilders and vegetarians—are putting importance on the nitty gritty of the protein. The average consumer who is just aiming to maintain a healthy lifestyle, on the other hand, is simply looking to increase protein intake; this has caused innovation in delivery formats. Dairy-based beverages, especially smoothies, are the most popular candidates for protein fortification since they have a thicker consistency ideal for protein powders. In addition, their on-the-go format, time-of-day consumption (breakfast or snack) and established health halo contribute to their popularity as candidates for protein fortification. But as plant proteins improve in every aspect, they are making their way into a variety of product applications. We are seeing a great deal of innovation in both improving existing proteins, such as deflavoring and hydrolyzing, and developing new protein sources, such as fava bean protein and pumpkin seed protein. We are especially seeing innovation involving plant-based proteins because consumer demand is rapidly increasing for this category. We are now seeing plant proteins in baked goods, chips and even water.
George Pontiakos is the CEO and president of BI Nutraceuticals.
Subscribe and receive the latest insights on the healthy food and beverage industry.
Join 47,000+ members. Yes, it's completely free.
You May Also Like
---