Colors and flavors bring food to life
Colors and flavors bring food to life
In this new norm of clean label, it's no surprise that consumer avoidance of artificial ingredients is helping drive growth in natural colors and flavors.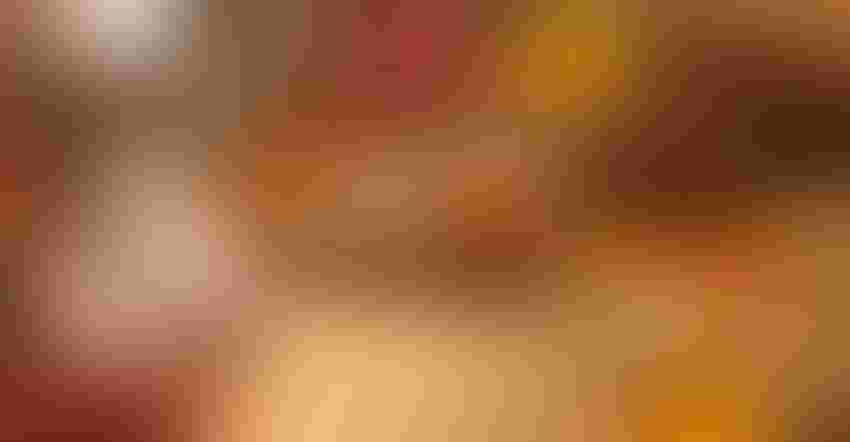 Colors and flavors each play an enormous role in the success or failure of a finished product, because if a product doesn't look or taste good, it won't sell.
Color additives used in food development not only make products more visually appealing, they also offset possible color loss, enhance naturally occurring colors or give bland-looking foods an attractive hue. Besides imparting flavor to a product, flavor additives have functional roles, such as masking off-notes and bitterness from nutritional ingredients such as certain proteins, fibers, omega-3s, botanicals, and vitamins and minerals.
But in this new norm of clean label, it's no surprise that consumer avoidance of artificial ingredients is driving growth in natural colors and flavors markets. In fact, the worldwide retail value of packaged food bearing "no artificial colors" claims grew about 3 percent between 2015 and 2016, as did the retail value of foods bearing "no artificial flavors" claims, according to data from Euromonitor International. By 2016, foods free from artificial flavors reached a worldwide retail value of US$41 billion, while those without artificial colors reached nearly $50 billion in retail value.
Sales are also up stateside. Packaged food with no artificial colors or flavors each grew about 2.5 percent in sales, according to Euromonitor International. The retail value of foods free from artificial flavors reached about $14 billion in the United States, while that of foods free from artificial colors reached approximately $11 billion.
Rainbow of opportunities for natural colors
The global food colors market—synthetic, natural and nature-identical—reached US$3.8 billion in 2018 and is projected to reach $5.12 billion by 2023, representing a compound annual growth rate (CAGR) of 5.7 percent during the forecast period, according to MarketsandMarkets. The natural segment, fueled by increased demand for food and beverage products made with natural and clean label ingredients, accounted for the lion's share of the total market.
The use of synthetic colors in food and beverage products has been a hot-button issue ever since the 2007 University of Southampton's study (Lancet. 2007 Nov 3;370(9598):1560-7) linking food colors to hyperactivity in children. The study's results eventually were found to be lackluster by the European Food Safety Authority's (EFSA) Panel on Food Additives, Flavourings, Processing Aids and Materials in Contact with Food. Nevertheless, the study set the stage for growing consumer backlash against artificial colorants in food.
The result has been increased market opportunity for natural colors in key application areas including dairy, beverages, bakery and confectionery. Natural sources include beta carotene, astaxanthin, anthocyanin, annatto and others, while natural-identical sources include mixed carotene, lutein, canthaxanthin, lycopene, curcumin, titanium oxide and more. Furthermore, fruits, vegetables, concentrates and extracts also are becoming more popular as natural alternatives.
As the trend in the food and beverage markets push for more natural, organic and clean label products, the need for natural ingredients is increasing and ingredient suppliers are delivering colorful options. In 2017, WILD Flavors and Specialty Ingredients extended its natural food color portfolio by adding food colors based on extracts from pumpkin and a special carrot variety containing lycopene. The pumpkin-based product falls into its portfolio of yellow colors and when combined with spirulina, produces varying shades of green. The carrot extract with lycopene can be used to create deep yellow-orange shades. That same year, GNT launched the EXBERRY® Savoury Solutions range of natural colors—from yellow, orange and red to pink, brown, blue or green—for savory applications based exclusively on vegetable and plant concentrates. Last year, Sensient Colors Group, a unit of Sensient Technologies Corp., extended its organic food color portfolio with the launch of three new food colors—organic black carrot, organic annatto and organic beet. For 2019, Sensient predicted continued interest in bright colors and extracts sourced from natural superfoods like turmeric, elderberry, spirulina and chlorella, as well as surge in beet juice coloring solutions. What's more, it anticipates increased demand for color from traceable, natural sources grown responsibly and sustainably.
Red is a key shade in many food products, but naturally sourced red solutions can present stability and vibrancy challenges that can leave some product developers "seeing red." Fortunately, ingredient suppliers are overcoming obstacles and rolling out natural red colors derived from fruits and vegetables.
Chr. Hansen recently launched FruitMax®, a line of naturally sourced, minimally processed red colors based on a blend of red vegetables. "Our new FruitMax® reds have been developed to solve some of the major challenges with natural red colors that exist in the industry today. They provide a stable vibrant red shade without having the tendency to create an off-flavor like red radish concentrates," said Klaus Bjerrum, executive vice president, natural colors at Chr. Hansen. "It was our ambition to meet consumer demands for natural, while also enabling food and beverage manufacturers to create exactly the shade of red that suits their brand every time."
While natural colors can be costlier than their synthetic counterparts and can present certain stability challenges from heat, light and oxygen, brands are reformulating with great success. In the case of Kraft's Macaroni & Cheese, the brand was able to eliminate its artificial colors and flavors without consumers really noticing a difference. In fact, Kraft announced in April 2015 that it planned to remove all artificial flavors, preservatives and dyes from its Blue Box, and did exactly that in December of that year. By March 2016—just three months later—the brand reported selling more than 50 million boxes of its mac and cheese, revamped with natural coloring from paprika, annatto and turmeric in place of yellows 5 and 6. And while the change was listed on the ingredient panel for months, consumers didn't bat an eyelash. In response, Kraft launched a new marketing slogan ("It's changed. But it hasn't.") and a hashtag to match: #didntnotice.
The power of Pantone
For more than 20 years, the Pantone Color Institute has set the bar for colors that influence product development and purchasing decisions in multiple industries—from fashion and home furnishings to food and beverage products.
In 2018, Pantone declared "Ultra Violet" as the color of the year, ushering in a world of unicorns and all things purple that transcended onto food and beverage products in the retail and foodservice scene. Starbucks cashed in on the craze with its Unicorn Frappuccino drink that drove significant traffic to chains during its limited time offering (LTO) and blew up the company's brand via Instagram and other social media outlets. Consumer packaged goods (CPGs) companies also jumped on the purple bandwagon with colorful product launches in key categories including dairy, confectionery, snacks and bakery.
For 2019, Pantone elevated "Living Coral" to the top of the color wheel, calling it an animating and life-affirming shade of orange with a golden undertone. The company said Living Coral "is a nurturing color that appears in our natural surroundings and at the same time, displays a lively presence within social media." Leatrice Eiseman, executive director of the Pantone Color Institute, noted nature and the importance of preserving the environment was the overriding influence for this year's selection. But this year isn't the first time the environment influenced the choice. In 2017, Pantone selected "Greenery" as the color of year because it "symbolized the reconnection we seek with nature, one another and a larger purpose."
Unicorns and purple will continue to trend well into 2019, but if Living Coral lives up to its hype, we'll probably see mermaids and muted shades of Nemo foodstuffs hitting the retail stores soon.
What's on tap for innovative flavor trends
The global food flavors market reached $13.17 billion in 2017 and is expected to hit $20.11 billion by 2025, according to Allied Market Research. Artificial food flavors accounted for more than half of the total market segment in 2017; however, rising demand for unusual flavor combinations, unique and exotic flavors, and the desire for healthier alternatives is predicted to grow the natural flavors sector by a CAGR of 9 percent over the forecast period.
Flavor is an ever-changing variable that can be influenced by emerging global cuisines and evolving consumer preferences. The popularity of ethnic foods with U.S. consumers has been on the upswing for nearly a decade, with Americans moving out of their comfort zones to explore bolder flavors and more culturally diverse foods, opening the doors to endless flavor options for food product developers and brands.
According to Technomic's "2017 Flavor Consumer Trend Report," 65 percent of consumers like trying new flavors from time to time, but only 16 percent of consumers actively seek out new flavors. Baby Boomers show a greater tendency to forgo new flavors, while Millennials and Gen-Xers drive demand for unique flavor. Differing attitudes ring particularly true for spicy, bold and ethnic flavors, with Millennials twice as likely as Boomers to order ethnic foods at least once a week.
"The growing divide in flavor preferences between Millennials and Boomers heightens the need for a product mix that appropriately balances familiarity and innovation," said Kelly Weikel, director of consumer insights at Technomic. "Creating a small twist on classic recipes with flavors that particularly appeal to Boomers, such as smoky flavors, can provide an element of uniqueness without going too far out of their comfort zone."
Culinary Visions Panel's 2019 Forecast revealed consumers are expanding their appetites to encompass global flavors and international ingredients. Embarking on a deeper exploration of Latin American, Asian and Mediterranean foods means using food ingredients and flavor profiles from Ecuador, Peru, Brazil, Korea, Philippines and Morocco.
Alex Wendling, M.S., president of Custom Flavors, a division of Custom Ingredients, agreed, noting a recent trend toward destination flavors such as Tahitian Vanilla or Philippine Mango. "The late Anthony Bourdain, among others, brought the exotic foods of the world to everyone's living room, and now consumers demand those flavors be available in their grocery store," he said. He also said growing interest in improved nutrition has resulted in a strong push for floral and berry flavors that align with phytonutrient-rich foods such as Hibiscus or Lingonberry."
Innova Market Insights called out flavors as a top 2019 trend, noting unexpected flavor blends, like turmeric chai and cinnamon, or spicy candies and savory yogurts, are also drawing customers in. Growing interest in Israeli cuisine also has led to increased flavor innovation from Lebanon, Syria and Turkey, according to Technomic, noting sauces such as s'chug, pomegranate molasses, toum, labneh and tahini are finding new and innovative applications, as well as ingredients including urfa, lavash and schmaltz.
Comax recently rolled out its A Passage to India collection, featuring Indian Vegetable Curry, Mango Lassi and Masala Spiced Donut flavors. "Over the last few years, we've seen Indian ingredients such as cardamom, coriander, curry and garam masala emerge," said Catherine Armstrong, vice president of corporate communications at Comax Flavors, noting the multicultural collection can be used in numerous applications such as savory products, dressings, sauces, dairy, ice cream, plant-based applications, baked goods, and nutrition and performance products.
Philip Caputo, marketing and consumer insights manager at Virginia Dare, consumers' adventurous taste buds will lead them to Indian-inspired flavors in 2019. "Consumers love pairing the familiar with the exotic, and Indian flavors are an area we see benefiting from this," he said. "Look for hybrid flavors like cardamom mocha, cardamom white chocolate, chai caramel, chai molasses, garam masala gingersnap, maple cumin, and maple curry spice blend."
Caputo also said interest in familiar flavors such as banana and maple is expected to grow in upscale applications including craft beer, ice cream, coffee and flavored spirits. Furthermore, rising popularity of plant-based eating has put oat milk in the spotlight as an alternative to almond and soy milks. "Considering this trend alongside the continued popularity of overnight oats and a general move toward increased fiber intake, we expect toasted oat to grow as a flavor in shakes, cereals, and more in 2019," he noted.
According to Mintel, the importance of flavors is a key purchase driver, as more than 75 percent of consumers are influenced by flavor choice when purchasing a sports nutrition product. Therefore, creating innovative flavors for this market remains a priority at for ingredient suppliers.
As part of its "Flavors of the Future" list of flavor trends, Synergy Flavors Inc. identified new and upcoming ingredients being used by chefs in their restaurants and evaluated the applicability of those in sports nutrition. Yuzu is one example. The citrus fruit, which grows wild in central China and Tibet, is prevalent in a variety of cuisines, and is now migrating to other product categories, such as spiked and sparkling beverages. It combines well with mint, apple and lemon flavors—ideal for sports nutrition applications. Other emerging, growing and mainstream flavors making this year's list included tart cherry, speculoos, matcha, dragon fruit, tiramisu and tres leches.
Herbs and botanical ingredients such as ginseng, turmeric, ginger, lavender, moringa and elderflower have taken root as popular ingredients in food and beverage products over the past few years not only for their health benefits, but also for flavors they impart. This year is no different. Firmenich named hibiscus as the 2019 "Flavor of the Year" based on the growing appeal of florals in food and beverages, and the trend toward curiosity in consumption. According to Firmenich insights, based on data from Mintel and its global consumer database, the global use of hibiscus in food and beverage new product launches has increased nearly 300 percent compared to 2012. Top categories for launches include yogurt, beer, tea and chocolates.
"A correlation we are making to explain the rise in hibiscus is between consumer awareness of sugar content—in particular in their beverages—and their desire to replace sweetness with other flavors that help deliver sensorial impact and provide interesting and novel taste experiences," said Jeff Schmoyer, vice president of global consumer insights at Firmenich. "Flavored water has become mainstream, with traditional flavors such as lemon, lime and berry having led the way. But now, as people continue to demand healthier beverages, we expect the demand for more niche flavors such as hibiscus that have historical and cultural associations with health to also rise."
Subscribe and receive the latest insights on the health and nutrition industry.
Join 37,000+ members. Yes, it's completely free.
You May Also Like
---