NPA's Doug Kalman reflects on role of science in nutritional products
NPA's Doug Kalman reflects on role of science in nutritional products
Doug Kalman, who recently joined the Natural Products Association, weighed in on the role of science in nutritional products and other issues in an interview.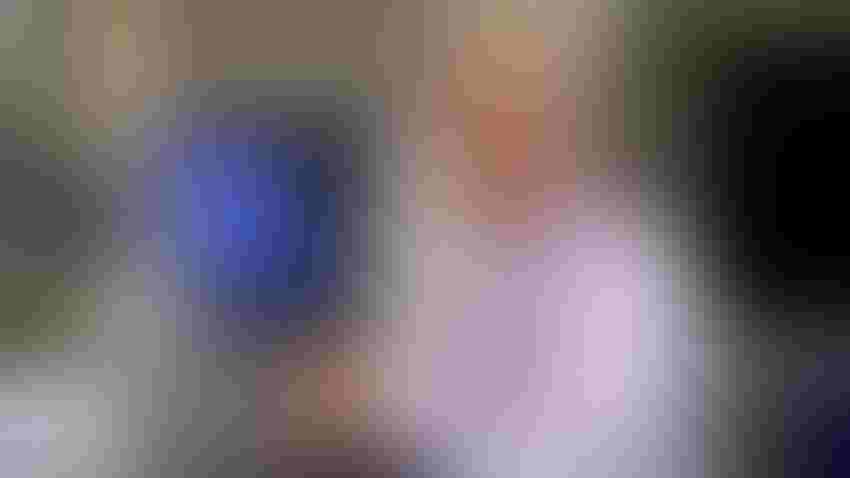 Doug Kalman, Ph.D., sits for an interview with Natural Products Insider in 2021 at SupplySide West in Las Vegas. On March 1, 2022, the Natural Products Association (NPA) named Kalman senior vice president of scientific and regulatory affairs.
The science into the benefits of natural products has sharply risen over the last 15 to 20 years, highlighting growth in "the understanding of the complex relationship between nutrition and health and well-being," according to Doug Kalman, Ph.D., SVP of scientific and regulatory affairs with the Natural Products Association (NPA).
Kalman spoke in an interview about science just days before another trade association announced the availability of a study clinical database focused on the scientific literature related to EPA (eicosapentaenoic acid) and DHA (docosahexaenoic acid) omega-3s, from which is derived a product category of drugs and dietary supplements. More than 50 independent research assistants helped to review over 40,000 studies on omega-3s and create a searchable tool that details about 4,000 human clinical trials, according to a news release from GOED (Global Organization for EPA and DHA Omega-3).
While the science into natural products has not increased to the same "altitude" as drug discovery, it's on a "meteoric" rise now, Kalman said. He cited, for example, scientific knowledge over the last five years regarding "the relationships between our various microbiomes and health."
"This would have never been spurred really if it wasn't for the interest sparked in dietary supplement[s] and related research in the late '80s and most expansively" after passage of the Dietary Supplement Health and Education Act of 1994 (DSHEA), Kalman said.
Kalman projected continued growth within the categories of dietary supplements, medical nutrition products and functional beverages, saying, "There's a whole host of great opportunities for companies and individuals in the natural products industry."
He acknowledged the industry continues to face challenges, including ensuring the science behind nutritional ingredients is what drives the marketing claims. Critics of the industry have long lambasted marketers of dietary supplements for proclaiming their products have value for the general public or treat an assortment of conditions without the scientific evidence to substantiate their advertising claims.
"The industry needs to embrace and celebrate the science behind each ingredient and finished product(s)," Kalman said in a follow-up email. "We all understand that advertising and marketing are what drive or in part drive product awareness and sales, but it is how the marketing is crafted and how the story is told about the ingredient(s) and finished product that can make a difference."
He added, "There is nothing wrong with positioning and communicating science as part of your sales goal."
Kalman said the industry has educational opportunities to use early, emerging and established science to objectively convey "how the science of nutrition, including dietary supplements," plays an active role in health care and wellness. Dietary supplementation in humans, Kalman added, begins as early as in utero.
"OB/GYNs [obstetrician-gynecologists] typically recommend dietary supplementation to women thinking about conception and most certainly when they are pregnant," Kalman observed. "Following this, newborns are supplemented with nutrition on day one of life, indicating that life cycle nutrition and dietary supplements as part of life cycle nutrition starts at conception and lasts throughout the lifetime."
HSAs, quality-of-life products
A veteran in the dietary supplement industry with expertise in clinical trials, sports nutrition and other areas, Kalman recently joined NPA after having most recently served as vice president of scientific affairs with Nutrasource, a contract research organization (CRO).
Kalman is the latest executive with scientific credentials to join NPA. Its past employees include Sibyl Swift, Ph.D., a former official in FDA's Office of Dietary Supplement Programs (ODSP); and Corey Hilmas, M.D., a former FDA official who worked at the agency with NPA's leader Dan Fabricant, Ph.D., who oversaw FDA's dietary supplement operations from 2011 to 2014.
"Science is at the core of everything we do at NPA, and having an accomplished scientific advisor like Dr. Douglas Kalman on board will help us in our mission to aggressively promote and defend the natural products industry," Fabricant said in a March 1 news release.
Fabricant added, "His expertise in nutrition, clinical trials and dietary ingredients will be extremely helpful to our efforts to educate regulators and elected officials alike on the importance of these products and why Americans find them so beneficial."
Kalman, who is developing a schedule of calendared webinars for the rest of the year focused on science, regulations and law, said there is an "opportunity to do a lot of good" at NPA.
For instance, he cited greater recognition today that Americans face nutrient shortfalls—and the wealth of opportunities to fill those gaps by such measures as expanding access to dietary supplements through a health savings account (HSA) or flexible spending account (FSA). NPA has supported legislation introduced in Congress that would grant Americans the right to be reimbursed from their HSAs and FSAs for out-of-pocket expenses for supplements.
In the interview with Natural Products Insider, Kalman also identified an opportunity to "continue to grow quality-of-life products" that promote such conditions as joint health, mood and sleep. "A greater embracement of the positive impacts of quality of life is the way I'm looking at it," he added.
Renaissance man
Before joining NPA, Kalman spent about 3 ½ years with Nutrasource. "I was happy to help them expand their client roster and to do international and multinational projects in clinical research and regulatory," he reflected.
William Rowe, president and CEO of Nutrasource, thanked Kalman for his contributions to Nutrasource's growth.
"Although it is always tough to say goodbye to a key colleague, we wish Dr. Kalman much success in his new role with NPA and are excited for him as he embraces new opportunities for growth in the areas of education, policy and advocacy for the natural products industry," Rowe said in NPA's press release.
Kalman has been a science and nutrition-specific advisor for various organizations over the years. Among others, these groups include the American Society for Nutrition, American College of Sports Medicine, International Society of Sports Nutrition, National Strength & Conditioning Organization, American Physiological Society, and the Academy of Nutrition and Dietetics, NPA said.
Kalman also teaches several courses at Nova Southeastern University (NSU) in Florida. He is currently teaching a course on nutritional neuroscience and said he plans to teach a course this summer on medical nutrition and pathophysiology. Kalman, who is listed as an adjunct assistant professor in NSU's College of Osteopathic Medicine, also has taught sports nutrition.
He received his undergraduate degree from Florida State University, his Master of Science from Hunter College and his doctorate from Touro University International.
Subscribe and receive the latest insights on the healthy food and beverage industry.
Join 47,000+ members. Yes, it's completely free.
You May Also Like
---