Esca Bona Supplier Hero: Amazing Grass
Esca Bona Supplier Hero: Amazing Grass
Kansas farmers are the No. 1 product in the organic greens category, and are using that economic muscle to help other farmers break free from factory farming.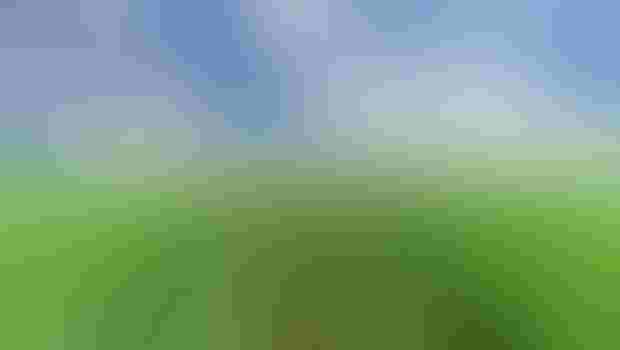 Improving the food system? Improving the supply chain? Commitment to organic, sustainable and regenerative farming practices? Forward-thinking plans to innovate and improve the food landscape?
For Kansas-based Amazing Grass—which boasts a 21 percent market share in the organic greens category—it's all in a day's work down on the farm.
"With industrialized farming monopolizing much of the existing supply chain, Amazing Grass has always been dedicated to organic, sustainable practices that leave the earth better than it was found," said Ryan Therriault, vice president of marketing and innovation at Amazing Grass. "At a time when many consumers are advocating against industrial farming and demanding transparency for where their food comes from, Amazing Grass is leading the way with their rejection of factory-based farming that strips the soil of nutrients, leaves the environment depleted and yields low-quality crops."
Amazing Grass was one of the first companies to reject factory-based farming in favor of long-term thinking around sustainable and organic farming practices. Amazing Grass is dedicated to producing real whole-food greens and grains around its cornerstone greens of kale, wheat grass, barley grass and alfalfa.
The company is enthusiastic about spreading the gospel of organic and sustainably grown crops. The company does this in part by partnering with small family farmers who share their high standards for sustainable agriculture. All Amazing Grass products are sourced from USDA Certified Organic, non-GMO, gluten-free, and vegan-friendly fields.
"Our commitment to sourcing from like-minded farmers is another important testament to our dedication to improving the supply chain," said Therriault. "By actively choosing to practice the sustainable practices we preach, we're able to encourage other companies, large and small, to do so."
Aiding farmers
The brand has also partnered with American Farmland Trust to raise up to $50,000 to help preserve U.S. family farmland. The depletion and development of farmland is staggering—AFT estimated that 175 acres of farm and ranchland are lost to development every single hour. In the 20 years from 1992 to 2012, 31 million acres were lost—the equivalent of all the farmland in Iowa.
Its new "I Love Farmers" initiative is promoted on all its tubs of new Protein & Kale powders, with stickers highlighting the loss of U.S. farmland. For every tub purchased, Amazing Grass donates one dollar to AFT. All the Amazing Grass Protein & Kale SKUs have tub stickers highlighting a "text to donate" call to action. (Text "ILoveFarmers" to 54815 to donate.)
Amazing Grass also has an initiative called "Amazing Farms," whereby the company seeks to have partnerships with other farmers who share equivalent values and high standards for optimal growing, harvesting and storage to prioritize sustainable agricultural practices that benefit both the people and the planet.
"By growing only once a year and harvesting at each crop's nutritional peak, Amazing Grass is able to guarantee higher quality nutrition and adequate soil regeneration," said Therriault. "Because of this, we have a lower yield, but much higher quality product."
Conscious farming
A conscious farming choice is to harvest crops only one time a year, which enables roots to grow deeper than most leafy greens and pick up minerals from the soil and sub-soil that other greens may not.
"In fact," said Therriault, "traditional farming methods actually strip the soil of the microorganisms that healthy soil needs, resulting in low-quality food and a devastating impact on the environment in one fell swoop."
The company does not wholesale any of its greens to other manufacturers, but by working with its growing network of like-minded farmers, it is using its economic muscle to inspire and incentivize other farmers to the cause of organic and sustainable farming practices.
Recent innovations include adding kale to a range of products including a Protein & Kale plant-protein blend comprised of pea, chia and quinoa protein sources.
And its new Energy and Hydrate Green Superfood Effervescents are an innovative way to consume your greens. Plop, plop, fizz, greens!
It's all in a day's work down on the farm for Amazing Grass.
Editor's Note: The Esca Bona Supplier Heroes is a reoccurring feature of suppliers that fuel innovation in the good food supply chain. These features explore the brand story, innovation, supply chain investment, research and partnerships that these companies undertake to improve the food system and consumer health. We select suppliers based on their commitment to the good food movement, their story, their sustainability initiatives, their focus on safe and efficacious ingredients, and their partnerships with their finished product customers.
Esca Bona is an event and brand spearheaded by New Hope Network that champions the good food movement by helping finished product brands improve their supply chain, support the people who create food, and best harness technology and innovation.
If you know of—or are—a supplier with a story to tell, email Sandy Almendarez, editor in chief, Natural Products INSIDER at [email protected].
Subscribe and receive the latest insights on the healthy food and beverage industry.
Join 47,000+ members. Yes, it's completely free.
You May Also Like
---