Top 10 SupplySide West supplier exhibitor highlights
Top 10 SupplySide West supplier exhibitor highlights
Innovation continues in nutritional ingredients that power trending supplement new product launches.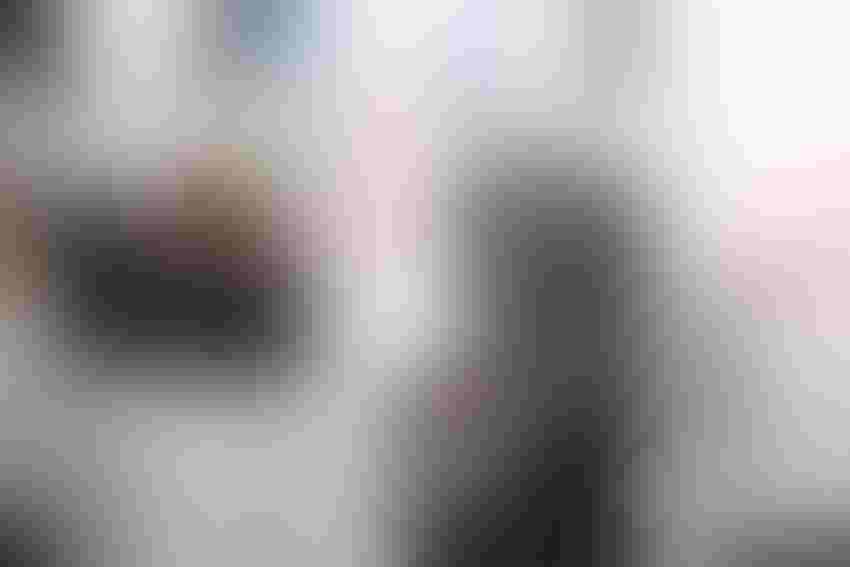 At SupplySide West in 2022, professionals meet in the Sabinsa booth.
At a Glance
SupplySide West kicks off next week at the Mandalay Bay in Las Vegas.

Thousands of booths will vie for brand attention.

Top 10 list provides insight into consumer trends.
FrieslandCampina prebiotics for sports applications
Booth #1617
Prebiotics are the lunchbox for the market-trending probiotic bacteria. A new innovation, with applications for sports nutrition, is to ferment the combination of FrieslandCampina's Biotis Fermentis brand GOS prebiotic, along with whey protein and probiotic cultures. The company also has high-purity GOS prebiotics, and plant proteins.
Lubrizol makes iron palatable, finally
Booth #3076
Iron supplementation, while crucial for many, carries a reputation for being unpalatable largely due to its tendency to leave a powerful and unpleasant metallic aftertaste. Consumers found that the LIPOFER formulations exerted the mildest metallic aftertaste, and that lingered for a much shorter duration compared to the standard iron formulations. In follow-up interviews, the panelists related high levels of satisfaction, with many expressing extreme satisfaction with the LIPOFER orosoluble sticks as a supplement format.
A3 aronia berries for US-grown active nutrition
Booth #3165
Increased health consciousness has driven customer demand for nutrients that help with physical activity and post-exercise recovery. From farming to product formulation, American Aronia Accelerator (A3) serves as a network of businesses and partners that presides over all stages of the aronia supply chain. The aronia story will be at the Orgenetics booth.
IFF Health for all your probiotic needs
Booth #3265
Led by the HOWARU probiotic strains and followed on with Care4U botanicals, IFF will showcase novel combination concepts that speak to today's most in-demand health applications, like menopause, skin beauty and brain health. Visit the booth to get a taste (or a whiff!) of what they're preenting.
Nuritas introduces AI-developed PeptiStrong
Booth #3315
In the sports nutrition category, improving muscle protein synthesis and muscle recovery are landmark goals. A clinical trial demonstrated that Nuritas Magnifier protein powder resulted in a 103% leg strength recovery compared to the typical 68% observed with milk protein. PeptiStrong is the brand name of the ingredient, identified through AI that identifies and tests peptides, turning them into powerful and precise ingredients.
OmniActive is saving eye health from screen use
Booth #3765
Screens from phones to computers damage the eyeball's macular pigment, and macular degeneration is the leading cause of blindness in those over age 60. And the macula does not even fully mature until about age 13. That makes eye-health ingredients like lutein and zeaxanthin critical in any multivitamin. OmniActive's "Lutein for Every Age" campaign seeks to educate consumers on this critical need. See new survey results showing the results of this educational campaign, and learn about research documenting the efficacy of supplementing with the macular carotenoids.
BGG World astaxanthin innovations
Booth #3845
Astaxanthin first gained notoriety during a Dr. Oz show a decade ago. This antioxidant superstar produced via algae is hundreds of times more powerful an antioxidant compared to vitamins C and E or coQ10. Clinical trials show benefit for inflammation and downstream joint support, visual acuity, cardiovascular support, brain health, beauty-from-within, athletic performance, immune system modulation and more. Check out BGG's world-class AstaZine brand astaxanthin—as well as finished product prototypes with gummies and drink mixes containing other bioactives like polyphenols and tocotrienols.
Balchem is king of citicholine
Booth #5036
New citicholine research shows why every pregnant woman would want to supplement with 500mg of the brain-health ingredient. Balchem will have its Vitacholine ingredient, as well as K2Vital vitamin K2, Albion chelated minerals and OptiMSM for joint health. The company's R&D team deliver a presentation entitled "Unlocking the Promise of Healthspan with Science-Backed Ingredients" as part of the official event program, to share new scientific research to support its portfolio, and explore the latest market insights to inspire innovation.
WIN is winning for women
Islander Ballroom H, Bayside Foyer, SupplySide Stage #5670
Women in Nutraceuticals (WIN) is the non-profit spearheaded by a cohort of global nutraceutical leaders. WIN President Heather Granato will chair a panel discussion on women in clinical research as part of the workshop on clinical trials on Tuesday, October 24, from 1 to 4pm in Islander Ballroom H. The #WINtogether Gender Equity Networking Reception will take place in the Bayside Foyer on Tuesday, Oct. 24 from 4 to 5:30pm. (Click the link to register). WIN chair of engagement Michelle Martin will speak as part of the session on Building Inclusive Communities on Wednesday, Oct. 25, from 3-3:30 on the SupplySide Stage #5670.
Nammex shows shrooms are booming
Booth #6802
Mushrooms have found their moment in the sun (rain?). Nammex is introducing two new mushroom ingredients. One is a mushroom source of vitamin D, which is a great alternative for vegatarians or vegans who do not want traditional vitamin D that comes from sheep wool lanolin. Ergothioeneine is a food-derived antioxidant found in high amounts in certain fungi. ErgoGold is an extract powder from Golden Oyster mushrooms that is perfect for individuals sensitive to yeast and for others wanting a non-synthetic and natural full-spectrum ingredient.
Subscribe and receive the latest insights on the health and nutrition industry.
Join 37,000+ members. Yes, it's completely free.
You May Also Like
---