Esca Bona Supplier Hero: Ixoreal Biomed & REBBL
Esca Bona Supplier Hero: Ixoreal Biomed & REBBL
Plant-forward beverage innovator REBBL delivers efficacious levels of functional herbs in clean, indulgent, coconut milk elixirs.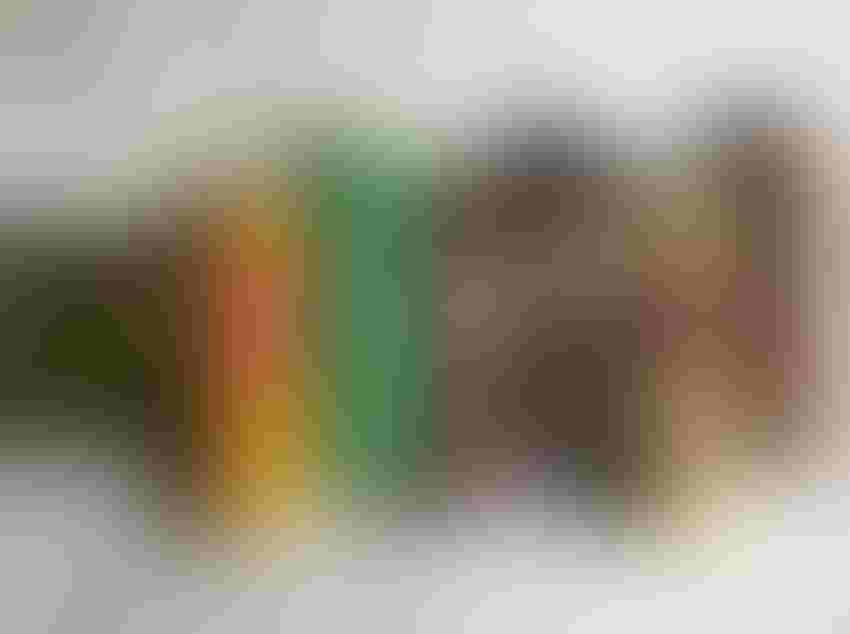 Roots. Extracts. Berries. Bark. Leaves. This is the stuff that plants are made of, the five different plant parts that people eat. For plant-forward beverage innovator REBBL, plants are not merely what the company does business in. Those five plant parts create an acronym for the company's full name—REBBL. (And you thought REBBL was just a hip brand spelling for a Millennial catechism.)
At Natural Products Expo East 2017, REBBL won the NEXTY Gold Award—not one of the elite class of a few dozen companies with the most inspiration, innovation and integrity in the larger NEXTY award class, but a NEXTY Gold, signifying one of the two brightest stars in the natural products galaxy.
A core part of the REBBL mission is to use efficacious levels of functional herbs and uncompromising plant-powered ingredients, which are delivered in clean, indulgent, coconut milk elixirs.
"REBBL represents the best of the plant queendom," said Rachel Hauser, REBBL community manager. "It's an idea deeply rooted in our brand, which celebrates plants and the power of plant-based products. We position our products as a celebration of these amazing plant-based ingredients. That really gets people excited and wanting to engage more with the brand. As a brand, it's our responsibility to drive awareness about the benefits of a plant-based diet. We want to share the nutrient-rich properties of plants, and how good you feel."
REBBL, a certified B Corp., not only celebrates plant consumption, but has a social mission around helping eliminate human trafficking in business supply chains.
So, when REBBL went about selecting the specific ingredient for its Ashwagandha Spicy Chai beverage, it went with an ingredient supplier with top-shelf bona fides, from its vertical sourcing story to its clean extraction process.
Ixoreal Biomed's KSM-66 brand of ashwagandha is unique in the market. Ixoreal spent more than a decade developing a milk-based "green chemistry" extraction process for its KSM-66 brand ashwagandha. The full spectrum of bioactives is extracted from the herb via milk, which obviates the need for harsh chemical or alcohol extraction agents. The result is a concentrated full-spectrum extract. The milk pre-treatment is important because it retains both the water-loving as well as the lipophilic components of the raw root. The extraction process makes for an end product that lacks the bitter taste component that often afflicts other ashwagandha extracts. The KSM-66 ingredient ends up with a pleasant aroma and is neutral in taste, which makes for elegant integration into finished product forms outside of supplement pills. Like, say, single-serving drinks from REBBL.
"We made coconut milk-based elixirs with super herbs," Hauser said. "I am all about promoting plants."
REBBL enthusiastically tells the story of the Ixoreal farms in India. "Our supply partners have invested in social impact programs focusing on promoting health and education in the local communities by establishing schools, colleges, hospitals, community centers, and parks," REBBL proclaims on its website. "A core part of our mission is to create positive social impact with our products. We source ingredients from suppliers who exemplify our values."
Kartikeya Baldwa, Ixoreal's director, commented: "We have 1,500 acres of our own organic certified farms. We conduct our own testing, R&D—nothing is outsourced."
The company has tight vertical control over its supply chain. This includes its own farms, production facilities, testing laboratories, research center and distribution.
KSM-66 boasts nearly two dozen different certifications that speak to effectiveness and integrity. These range from USDA Organic and Non-GMO Project Verified to kosher and Halal, and USP and NSF certified for quality and cleanliness. It's also manufactured in a facility that's both ISO 9001 and GMP certified.
More than the quality certifications, however, is the human face of contentment. Ixoreal employs a lot of women in the fields. Employment opportunities for women in India is a positive force. In villages near the farms, nearly 500 students attend schools partially funded by Ixoreal, along with a local medical facility.
"The workers are happier, and work better, so they produce a better product," said Baldwa. "So it benefits the end consumer."
Other factors are also at work. The ingredient enjoys a robust research dossier, including dozens of human clinical trials. And while ashwagandha has myriad effects and applications, Anand Bodapati, Ixoreal's science director, said the company has focused its research efforts on four areas—two for the mind, two for the body. Ixoreal has supported research on KSM-66's effects on stress relief and brain health as well as sports performance and sexual health. "The running theme," Bodapati said, "is focusing on things that may affect your productivity in life."
REBBL is one company taking the KSM-66 ashwagandha brand and using a supplement-style dose—650 mg per bottle—in a sumptuous single-serving drink. The inspiration and integrity permeates the entire brand, right down to the ingredient supplier at work in the fields of India.
Editor's Note: The Esca Bona Supplier Heroes is a recurring feature of suppliers that fuel innovation in the good food supply chain. These features explore the brand story, innovation, supply chain investment, research and partnerships that these companies undertake to improve the food system and consumer health. We select suppliers based on their commitment to the good food movement, their story, their sustainability initiatives, their focus on safe and efficacious ingredients, and their partnerships with their finished product customers.
Esca Bona is an event and brand spearheaded by New Hope Network that champions the good food movement by helping finished product brands improve their supply chain, support the people who create food, and best harness technology and innovation.
If you know of—or are—a supplier with a story to tell, email Sandy Almendarez, editor in chief, Natural Products INSIDER at [email protected].
Subscribe and receive the latest insights on the healthy food and beverage industry.
Join 47,000+ members. Yes, it's completely free.
You May Also Like
---