The good food movement: Emphasis on global impact, transparency drives ethical food production
The good food movement: Emphasis on global impact, transparency drives ethical food production
The way food companies source ingredients, manufacture and distribute their products significantly impacts social and environmental performance, as well as consumer trust and loyalty.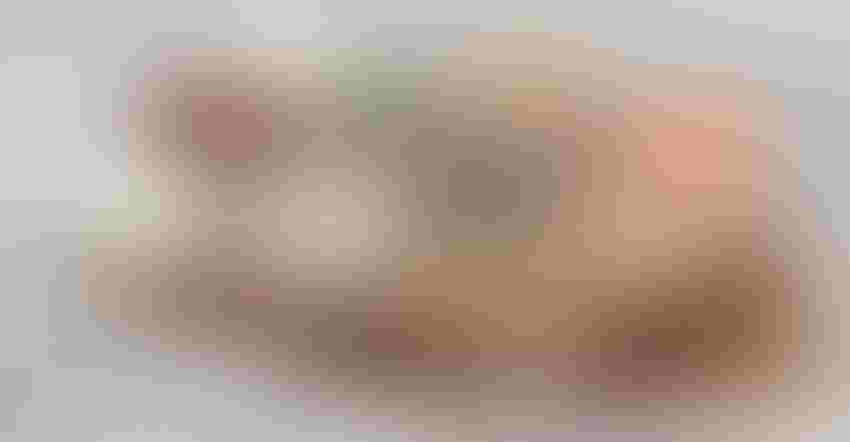 The good food movement is characterized by quality food created by companies committed to social and environmental sustainability.
Consumers across income levels are willing to pay more for products from companies committed to a positive social and environmental impact.
Sales growth for products produced in a sustainable manner picked up steam in recent years, increasing 7.2 percent in 2017 compared to 2016.
The good food movement is afoot—one that advocates for food produced in ways that benefit both the land and the people who grew it. The way food companies source ingredients, manufacture and distribute their products significantly impacts social and environmental performance, as well as consumer trust and loyalty. Sustainable agricultural practices, clean labels, transparency and corporate social responsibility are driving the good food movement.
The Driving Force
America is known for mass-produced, mass-marketed fast and convenient food. Food is relatively cheap, everywhere and easy to eat, even while driving a car. Inspired by the regional and artisanal traditions in France and Italy, the good food movement is transforming the American table.
The good food movement is characterized by local, fresh, better-quality food created by companies committed to social and environmental sustainability. A growing number of consumers are "looking for foods that come from companies or purveyors who are transparent and can explain how they grow or raise their food—from environmental practices to food safety, nutrition quality and community contributions," said Erin Coffield, RDN, LDN at National Dairy Council. "They want companies who balance the social, environmental and economic impact of responsibly producing nutrient-rich foods to nourish people while protecting the planet."
According to the 2015 Nielsen Global Corporate Sustainability Report, wealthy suburbanites aren't the driving force behind two important segments of the good food movement: sustainability and social causes. Consumers in all areas and across income levels are willing to pay more for products from companies committed to a positive social and environmental impact. In fact, 68 percent and 63 percent of consumers making $20,000 or less or $50,000 or more, respectively, are willing to pay more for products created by companies committed to sustainability. Age wise, Millennials lead the pack, with 73 percent willing to pay more for products from companies committed to the principles underlying the good food movement.
Environmental sustainability
What's good for the earth is also good for companies' bottom lines. According to Nielsen's 2015 sustainability report, companies committed to sustainability grew 4 percent globally compared to less than 1 percent growth from companies not committed. Sales growth for products produced in a sustainable manner picked up more steam in following years, increasing 7.2 percent in 2017 compared to 2016. Year-over-year sales growth was highest for companies with sustainable farming claims (11.4 percent growth) followed by business practices, production methods, animal welfare, sustainable fishing and packaging material (2.5 percent growth).
Sustainable environmental practices include minimal use of damaging fertilizers and pesticides; non-toxic or less toxic pest control; minimizing the impact of farming on surrounding environments; and creating green energy, recycling waste, reducing power usage, water conservation and creating outlets (value-added uses) for any by-products. "Environmental stewardship must be woven into the fabric of a company in order to be sustainable; it becomes part of a company's mindset," said Michael Chernyak, president, CK Nutraceuticals.
According to Mikkel Thrane, sustainability leader, DuPont Nutrition & Health, sustainability starts with ingredients. "Sourcing of raw materials represents more than 50 percent of our total carbon footprint," Thrane said. DuPont is among several companies making strides to ensure their ingredients are more sustainable.
California almond growers are zoning in on water usage. "Farmers have reduced the amount of water needed to grow a pound of almonds by 33 percent over the past 20 years," said Molly Spence, director of North America, Almond Board of California. "The California almond community is now focused on accelerating use of irrigation practices and technology that maximizes crop per drop while also exploring on-farm groundwater recharge."
The U.S. dairy community is also actively working on minimizing the environmental impact of ingredient production. Dairy practices have evolved: a gallon of milk produced in 2007 used 65 percent less water and 90 percent less land to produce while creating a 63 percent smaller carbon footprint and 76 percent less manure than it did in 1944 (J Amin Sci. 2009;87(6):2160-7). "The U.S. Dairy 2008 life cycle assessment study demonstrated the U.S. dairy community contributes approximately 2 percent of total U.S. greenhouse gas emissions—the lowest average greenhouse gas intensity of milk production globally," Coffield said. In an effort to advance sustainability efforts, the dairy community set an aggressive goal to voluntarily reduce greenhouse gas emissions by 25 percent by 2020. The decrease in environmental cost to produce a high-quality, nutrient-rich source of protein helps dairy deliver health benefits for the consumer while following the tenants of the good food movement. "Dairy proteins are sustainably produced and minimally processed, and they deliver unmatched nutrition, functionality and versatility advantages," said Stuart Phillips, Ph.D., director, McMaster Centre for Nutrition, Exercise, and Health Research, McMaster University.
Advance International Inc. is taking a unique approach to ingredient sustainability. It takes fresh fish and gently extracts (without additives and harsh chemicals) a concentrated, commercially available, alternative protein that doesn't taste or smell like fish. The company doesn't use fresh water, arable land or pesticides, and it harvests less than 0.5 percent of the total species biomass each year. According to Brandon Aldridge, vice president of sales and marketing, Advance International, "We don't genetically modify, farm or manipulate anything. Our only ingredient (hake, otherwise known as Pacific whiting) is from sustainably sourced, MSC [Marine Stewardship Council]-certified fisheries that are among the top 2 percent in the world in health/sustainability."
Thrane suggested sustainability starts with ingredients that reduce food waste. "Sustainable products can be promoted by solutions that help produce better and more delicious food products that can stay fresh longer—ultimately leading to less food waste and healthier, more satisfied consumers. The majority of avoidable waste (73 percent) occurs because food is 'not used in time.' A significant part of this waste can be avoided by using ingredients that keep food fresher for longer."
Sustainability Throughout the Supply Chain
Tyler Lorenzen, president at PURIS, recommended companies get to know their suppliers and partner with those with full custody of their supply chain. "Companies who work with seeds, farmers, own their production facilities are able to share transparently the challenges and successes of making food that is inherently good," Lorenzen said. PURIS works with farmers who can grow more cover crops and carbon sequestering plants that leave the soil better than when they found it.
DuPont is answering the question about supply chains by "applying environmental management systems to optimize production processes, redesign workflows, replace equipment, enhance efficiency, and minimize emissions and waste," Thrane said. In Denmark, DuPont converted from coal to woodchips as the main energy source. "This change also involves supplying excess heat to the local district heat network, ultimately reducing 64,000 tons of carbon dioxide annually, which is equivalent to removing 27,000 average Danish cars from the road for a year," Thrane explained.
Clean label
There is no universally accepted definition of a clean label, making the term "clean" confusing to the public. According to Nielsen, clean labels are free from artificial ingredients and ingredients commonly deemed undesirable. Its 2017 "It's Clear: Transparency is Winning in the U.S. Retail Market" report indicated 68 percent of consumers will pay more for foods and beverages that do not contain ingredients they believe are bad for them. Additionally, sales growth for clean labels increased 1.2 percent in 2017 compared to the previous year, with ice cream leading the category followed by liquid coffee and candy.3
In addition to the definition provided by Nielsen, clean labels often highlight fresh, natural and organic, something 57 percent of consumers are looking for, per Nielsen's report. Additional common characteristics of clean labels include transparent, concise and easy-to-understand language. Consumers want to know, in a snapshot, why they should pick up a specific product. Product data company Label Insight found 39 percent of U.S. consumers would switch to brands that provide clearer and more accurate product information. According to Soumya Nair, director of marketing insights, Kerry, companies are stepping up to the challenge. "Various companies, both large and emerging, are taking on the challenge and providing clean label products that taste good," Nair said.
Transparency
Brand trust was the top factor influencing the decision to buy consumer goods, per Nielsen's 2017 report. Yet only 44 percent of consumers trust industrially prepared foods. Companies can improve transparency by clearly identifying consumer needs and making sure product labels call out desirable attributes. Doing this may not only improve trust, but also boost the bottom line. Products labeled "free of additives and artificial ingredients," grew 8 percent in 2017 while "all natural" grew 7.8 percent and "nothing artificial" grew 3.6 percent compared to the previous year, according to Nielsen.
Transparency involves everyone who touches food production, sales and marketing.  Manufacturers are busy reformulating their products to meet consumer demand for fewer artificial ingredients and simple ingredients. Those involved in food marketing are using front-of-package claims like "natural" and "organic" more often. Grocery stores are adding their own callouts on store shelves to clearly identify "gluten free," "local," and other attributes that may influence purchasing decisions. They are also hiring dietitians to help consumers navigate the grocery store and make educated choices that fit their health needs.
Spence recommended ingredient suppliers provide detailed information on production or growing practices to ensure the consumer has the information needed to make an informed decision. Cargill did this during the 2017 Thanksgiving season. "With their smartphones in hand, consumers could simply text or enter an on-package code on the Honeysuckle White brand website to access a farm's location by state and county, view the family farm story, see photos and read a message from the farmer," said Hannah Ficks, sustainability and marketing associate, Cargill.
Aldridge suggested eco-friendly certifications to enhance transparency. These may include Fair Trade, non-GMO (genetically modified organism), MSC, 100 percent wild oceanic and USDA organic. "The important thing to note is that the industry as a whole is shifting to become more transparent," Ficks stated.
Social responsibility
Commitment to social causes can sway purchasing decisions in 43 percent of consumers, Nielsen's 2015 sustainability report indicated. Companies can support like-minded corporations or the population at large. Coffield suggested consumers consider whether companies or brands report on corporate social responsibility on a regular basis, as this underscores their dedication to giving back.
Clif Bar & Co. encourages employees to volunteer on company-paid work time. They donate time, funds and Clif products through their CLIF CORPS program. Clif also supports grassroots groups who advocate for pedestrian- and bike-friendly communities, restore watersheds, expand urban forests, investigate the impact of environmental toxins, tackle the root causes of climate change and more.

Cabot Cooperative Creamery also donates employee time and company proceeds through its Cabot Corporation Foundation Inc. They've funded projects focused on education and literacy, science, technology, engineering, mathematics, environmental preservation, and community and civic needs.
Fair Trade-certified coffee producer Mayorga Organics hopes to help eliminate systemic poverty in Latin America through sales of artisanal organic products (primarily coffee). The company routinely visits its farmers and supports better ways to finance the supply chain and ship products to streamline business while minimizing the cost of production to benefit both the environment and health of farmers.
At Advance International, giving back means fighting malnutrition. For Every Kilo of APP™ Protein Powder sold, Advance International will donate a life saving RUSF (ready to use supplemental food) package or equivalent protein powder to Pledge to Humanity and other NGOs to fight childhood malnutrition globally.
Consumers want to know where their products come from, how they are produced, and why they should trust the brand and choose the product. The more clearly this information is communicated, the greater the likelihood of brand loyalty. The good food movement is bigger than producing food in ways that benefit the people and protect the earth. It is a movement grounded in doing what's right and clearly communicating how a company can support the global community. Balancing the environment, economic gain and social responsibility is a tough task, but one that is rewarded with a loyal following.
Want to know more about why Regeneration and Biotechnology both matter in the future of food? Join us for the Feeding the Good Food Future workshop on Thursday, Nov. 8, at SupplySide West 2018. This workshop is underwritten by Orgenetics and Stratum Nutrition.
Marie Spano, MS, RD, CSCS, CSSD, is a sports dietitian, food industry consultant and freelance writer who covers everything from functional ingredients to the latest research on dietary fats. Spano has appeared on CNN, Fox, ABC, NBC and other network affiliates throughout the nation, and is currently working on a nutrition textbook.
Subscribe and receive the latest insights on the healthy food and beverage industry.
Join 47,000+ members. Yes, it's completely free.
You May Also Like
---