Plant-based nutrition on full display at SupplySide West
Plant-based nutrition on full display at SupplySide West
Consumer demand for clean label food and beverage products that align with values related to health and wellness, sustainability and eco-consciousness is pushing plant-based ingredients and products into the spotlight.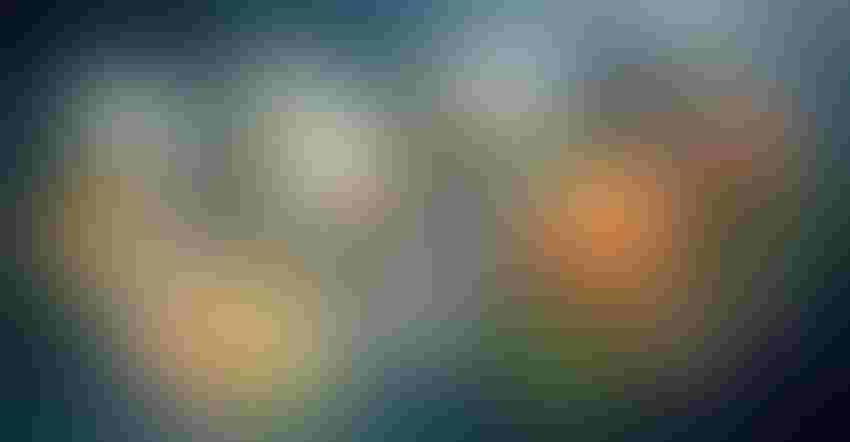 This shift toward plant-based eating was evident at this year's SupplySide West show in Las Vegas. Attendees walking the insanely huge show floor were able to learn about the latest and greatest plant-based ingredients and solutions for supplements and food and beverages. From proteins and flavors to gums and coatings, the list of plant-based offerings spanned nearly every ingredient category.
That said, the real buzz came from the SupplySide West and Food Ingredients North America (FiNA) co-branded three-hour workshop, "How to Win in the Booming Plant-based Nutrition Sector" that focused on the booming market for plant-based food and beverage products.
I kicked the session off with a quick review of current and forward-looking market data on the plant-based foods revolution. According to Innova Market Insights, plant-based product claims increased by 62% globally between 2013 and 2017 with growth occurring across every food and beverage category. Ingredients seeing an uptick in use include plant proteins, active botanicals, sweeteners, herbs and seasonings, and colors. In the U.S. alone, sales of plant-based food and beverages hit $4.5 billion, up from $3.4 billion in 2019, according to data from the Plant-based Foods Association (PBFA). Further, plant-based sales grew 11% compared to conventional sales that only grew 2%.
Next up was Michele DeKinder-Smith of Linkage Research & Consulting who discussed factors driving consumers to shift to plant-based eating. She noted five macro trends driving the plant-based trend—wellness, nature knows best, responsible consumerism, personalization and convenience without compromise. She noted plant-based is mainstream and will continue to growth with higher appeal among younger generations who base their purchasing decisions on key attributes including organic, non-GMO and sustainable. This means there is a wealth of opportunity for innovative brands to differentiate based on motivations and engagement. She advised brands to consider the role of health-focused claims to increase category and product appeal.
Geri Burdak of CloverQuest Group followed next and focused on how to Recognize whitespace in the category and launch a winning product. While plant-based nutrition is certainly not a new concept, she said new product development, innovation and technology are driving new creative plant-based products to market. She noted a number of hurdles facing the market, noting although progress has been made, protein alternatives still underperform in taste, texture and nutrition. She also many plant-based products have as many as 15 to 20 ingredients, which causes a disconnect with consumer expectations for clean label and minimally processed products. Brands looking to launch a product in this space must focus on clean label, improve the nutritional profile, improve taste and texture, and market the products properly.
Daniel Karsevar of PlantBased Solutions took the stage next and focused on ingredient developments in meat and dairy alternatives. He said in response to consumer and environmental needs, scientists and food companies are pushing the limits to find and use the most diverse, allergen-free, sustainable and unprocessed plant-based ingredients. Amid this changing ingredient landscape, a few notable newcomers stand out: algae, mycelium, unique legumes, vegetables, nuts and grains. These ingredients bring with them a new caliber of "clean" and sustainable, offering functionality without the multi-layered baggage that gluten and soy have come to carry.
Continuing the formulation discussion was Ed Dudley of Griffith Foods who discussed how to select the appropriate plant protein, and how to modulate and manipulate those substrates to provide the desired finished product attributes. He noted formulating with plant proteins requires a juggling act when it comes to balancing the functionality, sensory impact, nutrition profile, regulatory status and cost impact of the various ingredients. Two main challenges unique to plant proteins include perfecting functional and sensory attributes.
Will McCormack of Synergy Flavors followed with tips for overcoming organoleptic challenges associated with plant proteins. He focused on effective flavor solutions to help formulators develop successful plant-based products that balance the clean label requirement with consumer taste expectations and cost-in-use constraints. He said success can be achieved by utilizing descriptive analysis and sensory mapping to determine the best flavor pairing and masking agents.
Mary Mulry of foodwise One took the stage next to discuss supply chain issues and opportunities for plant ingredients. She highlighted five key issues—quality, nutrition, regulatory, sustainability and cost. In addition, brands must also consider whether they are manufacturing the product or using a co-packer. This will determine ingredient procurement, packaging and distribution strategies. What's more, claims and certifications are becoming critical components as more consumers seek out products that are organic, natural, kosher, non-GMO, gluten free, allergen free and more. She also touched on the topic of sustainability, which is becoming more important to consumers and stakeholders. Brands must be transparent about their supply chains and strive to achieve sustainable ingredients.
Ryan Fournier, an associate with Morgan Lewis, concluded the session with a discussion of regulatory issues facing the plant-based food sector. He note market growth and investment in the areas of plant-based meat (PBM) products and cell-cultured meat (CCM) products continues to expand in size and scope at staggering levels. The significant growth of the PBM market (and the expected growth of the CCM market) in such a short period has led to an explosion of legislative efforts related to PBM and CCM products, particularly concerning labeling. He outlined the current landscape of federal and state law activities, detailing specific bills and pending legislation, and addressed the important issue of preemption. He wrapped up his presentation with an update on the National Bioengineered Food Disclosure Standard (NBFDS or Standard) that requires food manufacturers, importers, and certain retailers to disclose information about whether food offered for retail sale is bioengineered (BE) or uses BE food ingredients.
More details of the workshop can be found at "How to Win in the Booming Plant-based Nutrition Sector". Download the "Plant-based revolution" digital magazine to find out more about challenges and opportunities for plant-based food and beverages.
Subscribe and receive the latest insights on the healthy food and beverage industry.
Join 47,000+ members. Yes, it's completely free.
You May Also Like
---