Omega-3s market outlook
Omega-3s market outlook
Omega-3 innovation is focused on taste, nutrition and increasing bioavailability of the molecules for nutritional benefit.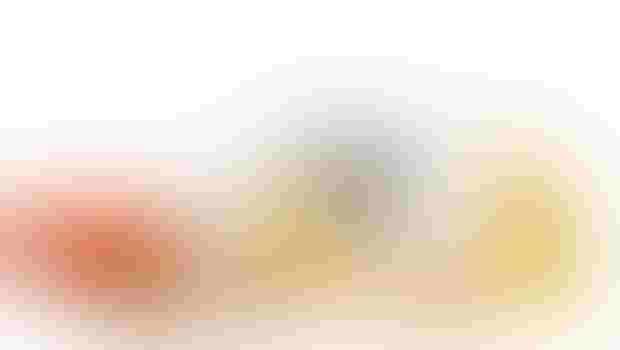 Omega-3 fatty acids are essential for overall health. Mary Ann Siciliano, national sales manager, Aristra Industries Inc., said omega-3s have been found to be particularly good for heart health, joint and inflammation support, eye health, cognitive function, pregnancy and healthy child development and immune function, among other benefits.
The omega-3s include the essential fatty acid alpha-linolenic acid (ALA), and the longer-chain eicosapentaenoic acid (EPA) and docosahexaenoic acid (DHA).
Plant-based sources of ALA omega-3 include flaxseed, chia seeds, canola, walnut and soybean oils and leafy and green vegetables. The short-chain omega-3 ALA can be converted in the body to the longer-chain omega-3s. However, the body's ability to convert ALA into EPA and/or DHA is inefficient, making ingestion of pre-formed EPA and DHA beneficial.
The biggest challenge for both consumers and industry affecting consumption of omega-3 food supplements is taste. Marine sources of long-chain fatty acids often yield a "fishy" taste that is unappealing to consumers.
Proprietary research from the Global Organization of EPA and DHA Omega-3s (GOED) showed highest supplement use is occurring in the United States, China and Australia. Statistica 2018 estimated the supplement market for omega-3 supplements in 2025 will reach US$57 billion, compared to $33 billion in 2016. This is indeed a steep growth for an individual supplement segment.
Consumption of omega-3-rich food is reasonably high in the high-population markets of China and India, but that is largely fresh-food based. As these economies evolve and nutrition management in the nouveau riche comes to vogue, the demand for supplements will rise.
Grand View Research Inc. anticipated significant growth in supplement demand is due to the realization of wide health benefits from omega-3s, as well as rising demand for infant formula. The fish oil segment alone was valued at $27.6 billion in 2016 due to early adoption to address inflammation and other health issues.
Increasing opportunities for omega-3s in the sports nutrition market, the desire to lead active lifestyles and the realization of the health benefits of omega-3 are key drivers of this growth.
SPINS data revealed omega-3 supplements containing fish oil concentrate were the top earners in the United States for 52 weeks ending Aug. 13, 2017, of which the highest contribution was from krill oil, followed by flaxseed and other combination oils.
Several product categories like gummies, powders, omega-3-fortified beverages, food and dairy-based products have emerged. The focus of innovation is taste, nutrition and increasing bioavailability of the molecules for nutritional benefit.
Going forward, with personalized nutrition emerging as the next frontier in nutrition management, self-testing to measure nutrient levels will emerge.
The Omega-3 Index test enables a user to choose a supplement and customize plans to fit a lifestyle; this is an example of how at-home testing and personalized nutrition is emerging in the category. The Index factors age, sex, weight, diet, genetics, smoking, medications and other medical conditions, and offers alerts to help the individual manage dosage of omega-3 intake.
We are entering a brave new world of personalized nutrition. Omega-3s will be part of this world. Hippocrates, the Greek philosopher, would be happy to learn that his successors are adopting finally agreeing when he said, "Let food be thy medicine and medicine be thy food."
Not all omega-3 and other personalized nutrition supplement manufacturers will equally leverage this opportunity. Companies that have structured and well-designed business processes, strong financial management systems and visionary leadership will succeed. Either way, it is a great time for the industry.
Sudhir Ahluwalia (sudhirahluwalia.com) is a business consultant. He has been management consulting head of Tata Consultancy Services, an IT outsourcing company in Asia, business advisor to multiple companies, columnist and author of the book "Holy Herbs." Ahluwalia was also a member of the Indian Forest Service.
Subscribe and receive the latest insights on the healthy food and beverage industry.
Join 47,000+ members. Yes, it's completely free.
You May Also Like
---