Nutrition bar manufacturing: A quality assurance perspective
Nutrition bar manufacturing: A quality assurance perspective
Bars are complex in formulation, with a wide variety of ingredients and product claims, lending the category to a range of quality assurance (QA) concerns.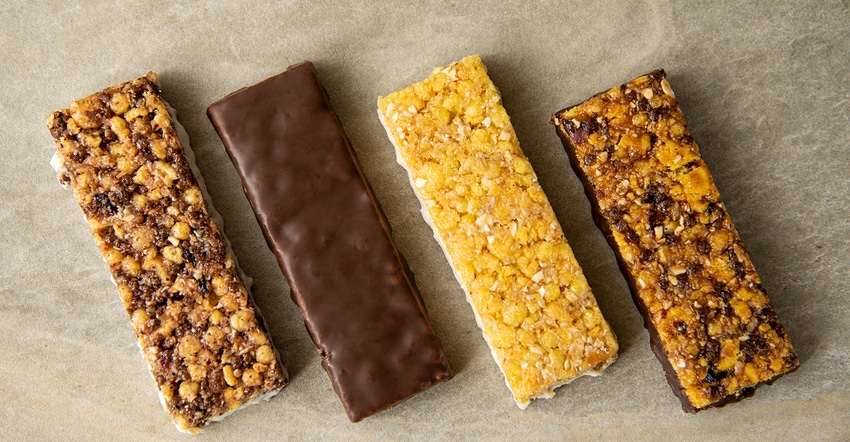 Bars, bars, bars and more bars, but certainly not the type that people sit at and sip tropical piña coladas and salty margaritas. Among varying categories of food bars (e.g., breakfast bars, energy bars, fruit bars, etc.), nutrition bars provide significant health benefits to a diverse population of consumers. From on-the-go athletes and clean label-focused Millennials, to weight- and health-conscious Baby Boomers and lunchbox-toting kids, the popularity and drive for protein-rich nutrition bars has contributed to increasing growth over the decades. Today, this functional food category is valued at US$6.875 million, according to Mintel's 2018 "Snack, Nutrition and Performance Bars—U.S.," and is expected to reach $7.735 million by 2022.
From 'food sticks' to food safety
In early 1960, NASA teamed up with Pillsbury to formulate "small food cubes" dubbed "Space Food Sticks" for its astronauts. Among the first to consume them was astronaut Scott Carpenter, who traveled on the Aurora 7 in 1962. Pillsbury's chief food technologist Howard Bauman and his team of scientists created these cosmic snacks—the precursors to energy bars. His former colleague, Jim Behnke, was quoted in a 2001 Los Angeles Times article saying, "HACCP is to food safety and quality assurance [QA] what fluoride is to dentistry."
Clearly, since Bauman's days, food safety and quality remain a critical QA focus. , Many types of these protein- and nutrient-rich bars are made with whey or soy, and fortified with vitamins, minerals and other nutrients. Add to this herbal and botanical ingredients and other innovative ingredient designs, accompanied by marketing tailored to consumer demands such as "all natural," "organic," "paleo," "genetically modified organism (GMO)-free" and "gluten free," to name a handful of categories. This all becomes a marathon of QA concerns. 
Prevention vs. control
In conjunction with HACCP is the now FDA-enforced Food Safety Modernization Act (FSMA) rules, enacted by Congress and signed into law by then-President Barack Obama on Jan. 4, 2011. This regulation bears several mandatory requirements for the food industry that also must be considered and implemented where applicable throughout the entire supply chain, from procurement of raw ingredients to the manufacturing, packaging, storage and distribution into commerce. Among these rules is Title 21 of the Code of Federal Regulations (CFR), Part 117, the Current Good Manufacturing Practice, (cGMP) Hazard Analysis, and Risk-Based Preventive Controls (HARPC) for Human Food requirement which, unlike Bauman's HACCP program, is geared toward evaluation and prevention of food hazards as opposed to just controlling critical points.
3 Key quality challenges
Given the vastness of these required food safety measures, three key areas of quality challenges will be addressed, and points noted on how the nutrition bar industry should handle them. Important to the oversight process is the need for qualified QA personnel. FSMA requires that an experienced and/or trained preventive controls qualified individual (PCQI) prepares a company's food safety program, and appropriately trained "qualified individual" (QI) be able to review documentation relative to the ingredients associated with the manufacture of bars.
1. Knowing one's raw material supply chain
Qualifying a raw material supplier is a paramount step to purchasing raw ingredients for bars. Raw material suppliers, now subject to FSMA rules, must provide compliant certificates of analyses (CoAs), and can no longer leave manufacturers and quality control (QC) groups at a loss for identifying ingredients or verifying their integrity through testing. This is mandatory Under FSMA's GMP requirement for Preventive Control for Human Foods (PCHF) (21 CFR 117.135 (a)(1)). However, because dietary supplement manufacturers incorporate some of the same ingredients in bars, the testing required for verification of specifications as per 21 CFR 111 (cGMP in Manufacturing, Packaging, Labeling, or Holding Operations for Dietary Supplements) addresses this to some degree.  Nevertheless, it is still necessary under FSMA to ensure the raw material supplier (whether domestic or foreign) and the ingredients used are compliant. Additionally, imported foreign ingredients are also addressed through the Foreign Supplier Verification Program (FSVP) rule.
2. Cleaning and handling are critical
With most bar manufacturing, multiple pieces of equipment come into direct contact with the product as it completes its processing to the finished bar, which lends a huge concern: cleaning and handling procedures. Among the major resulting issues are cross-contact and cross-contamination with allergens, and microbial contamination.  Consumer reactions to allergens account for a significant number of product violations and recalls due to illnesses from undisclosed allergens or adulterants. Between 2016 and 2017, more than 200 FDA 483s [a post-inspection notification of a potential violation] were issued for lack of various allergen controls, as reported by FDA. Microbial contamination is another crucial concern. Listeria moncytogenes, a pathogenic microorganism, is a known common food contaminant that causes serious illness (Listeriosis). Having a robust QA program that monitors cleaning procedures and appropriate environmental monitoring will help provide an effective quality system.  
3. Testing and verifying for compliance
Whether a direct manufacturer or an own label distributor who contracts out product manufacturing, it is ultimately the distributor's responsibility to ensure all finished products are verified compliant through scientifically valid testing before release into commerce. It therefore goes without question that QC and QA personnel are properly trained and qualified. Knowing the ingredients as formulated in the bars and engaging in dialogue with suppliers should also help determine the appropriate analytical, microbial and organoleptic (sensory) testing required. Concerning expiry dating (i.e., product shelf life), except for infant formula, dates on food products are not required by any federal law or regulation, although some states have requirements. Keep in mind that choosing to apply expiry dating to product packaging requires shelf life studies per FDA. Also, although not discussed in detail here, nutrition bars as a food are subject to certain USDA food processing requirements.
A successful quality and compliant outcome
Although only these three aspects of the bar manufacturing process are presented, they encompass critical quality and safety concerns. If addressed with intentional focus, application and support from management through operations, they have the potential to help consistently provide a successful quality and compliant outcome for finished bar products.
Heather Fairman is an independent consultant with EAS Consulting Group LLC and serves as technical advisor for the Small Island Developing States (SIDS) DOCK Island Women Open Network (IWON, sidsdock.org), an intergovernmental organization. With almost 30 years of combined QA)/QC and regulatory experience gained from FDA-regulated industries, Fairman applies her regulatory perspective and approach toward handling FDA matters and compliance requirements relative to all aspects of cGMPs current good manufacturing practices) and development of contract partnerships to ensure mutually beneficial and compliant outcomes.
Subscribe and receive the latest insights on the health and nutrition industry.
Join 37,000+ members. Yes, it's completely free.
You May Also Like
---