Sports nutrition firms, owners indicted for selling SARMs, prohormones
Sports nutrition firms, owners indicted for selling SARMs, prohormones
A 14-count indictment alleged Blackstone Labs and related parties sold hundreds of thousands of illegal compounds and conspired to defraud consumers and FDA.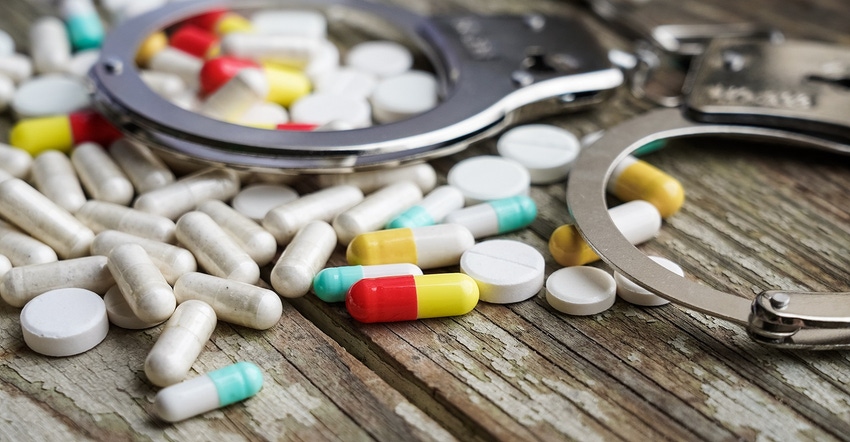 Popular sports nutrition company Blackstone Labs, its co-founders and key employees, and manufacturing partners were indicted by a federal grand jury for selling illegal substances, including prohormones (primarily dimethazine, or DMZ), AMP citrate (aka 1,3-Dimethylbutylamine/DMBA) and SARMs (selective androgen receptor modulators), as dietary supplements. The defendants face significant prison time and fines, as well as forfeiture of real estate, automobiles, equipment and already seized funds.
Issued March 7 and unsealed March 13, the indictment named Blackstone President and CEO Phillip "P.J." Braun as a defendant, along with his fellow Blackstone Labs co-founders, Aaron Singerman and Robert DiMaggio. Singerman left day-to-day operations in 2016 but was still an owner until around January 2018; he is currently CEO of RedCon1. DiMaggio helped manage Blackstone and took monthly payments until about September 2017; he is currently president and CEO of IronMag labs.
Blackstone employees James Boccuzzi, lead salesman and wholesale sales manager, and David Winsauer, vice president and marketing/website manager, were also named, as were contract manufacturer Ventech labs LLC and its co-owner and CEO, Anthony Ventrella. All the defendants are based in Florida, except for Ventrella, who resides in Nevada.
The indictment alleged the defendants knew the hundreds of products they sold were illegal and unsafe, and they attempted to shield themselves from liability by creating illicit companies to handle the manufacturing of the products, which were sold through trusted distributors. Several of these partners were included as unindicted co-conspirators but were not named.
In the 14-count indictment, all the defendants were charged with one count of conspiracy to defraud consumers and FDA, which carries a maximum of five years in prison and a US$250,000 fine. Braun and Singerman also face several other counts:
Two counts of introducing unapproved new drugs into interstate commerce (max three years in prison and a fine of $250,000 or twice the gross gain/loss per count)

One count (along with six other defendants) of conspiracy to distribute anabolic steroids (schedule III)—the indictment alleged one consumer suffered serious harm from the conspiracy (max 15 years, $500,000)

Three counts of distributing a controlled substance (along with several other defendants)—Ventrella was hit with one count of possession of a controlled substance (max 10 years, $500,000 fine per count)

Three counts (each) of money laundering (max 10 years, $250,000 or twice the gross gain/loss per count)
"Fraud by supplement manufacturers and distributors is extremely dangerous for consumers, who rightly assume that a dietary supplement product sold in stores or online will not contain unapproved drugs," said Jody Hunt, assistant attorney general in the Civil Division at the Department of Justice (DOJ), in a press release.
Most of the co-defendants surrendered the day the indictment was unsealed, and they posted bail. Boccuzzi was arrested and posted bail. Information on DiMaggio's status was not available at press time.
'Not worried' and 'prepared to battle the government'
Blackstone Labs was raided by federal authorities in February 2017 a few days after an article on Blackstone Labs, "How Two Florida Gym Rats Conquered the Shadowy World of Dietary Supplements," was published in Men's Journal.  
In a video interview with Price Plow several months later, Braun talked about the raid and expressed confidence in his company's compliance.
"We have a very good attorney. We are very, very confident in the fact that we didn't break any laws," he said. "We have no desire to put out products that are illegal. I stand by my word that we've never done anything [illegal], and I believe that will all be shown in the end. So, I'm honestly really not worried."
At press time, neither Braun, Singerman nor Dimaggio had responded to INSIDER's requests for comment.
However, Blackstone Labs released a statement online in response to what they called the government's "false and inaccurate charges." The company vowed to "vigorously defend the right of health conscious strength athletes, bodybuilders, and wellness professionals to access and use nutritional supplements that assist in muscle development and body tone."
The company said the government was "overreaching" in the case and challenged FDA's application of the definition of a dietary ingredient. Noting this is not the first time the company went up against the government, the statement promised Blackstone is prepared to battle the federal government.
"The government intends to destroy the weight lifting industry by making it hard for lifters to use legal nutritional supplements," said Blackstone, in the statement.
"That will not happen," Braun assured. "We intend to prevail."
Deception, lying and impersonating an FDA officer highlight conspiracy charge
In addition to the named defendants, the indictment also details actions by the unindicted co-conspirators, including the owner and manager of Palm Beach, Florida-based Fight Pharm LLC. (co-conspirator No.1), who also owns and manages a dietary supplement business in the state of Georgia.
The documents alleged Singerman, Braun and this co-conspirator founded Fight Pharm "so that they could shift the sale of drugs and other products from BLACKSTONE to Fight Pharm and to hide such sales from FDA." It further said Braun and Singerman directed Ventrella to be the nominal owner and CEO of Fight Pharm and put unindicted co-conspirator No. 2 in charge of its daily operations, but Braun and Singerman still signed the checks and received the profits.
After Fight Pharm became inactive in 2016, the three men created VBS Laboratories LLC as the successor to Fight Pharm, according to the indictment, which noted VBS took over Fight Pharm's facility and equipment. Again, Ventrella was a co-owner, and co-conspirator No. 2 ran the operations. VBS dissolved in 2017, and Ventech took over manufacturing Blackstone products.
A list of 40 "overt acts" involved in the conspiracy were listed in the indictment as perpetrated by the defendants and several co-conspirators, including Blackstone's inventory and shipping manager (co-conspirator No. 3), and the owner/CEO of a Batesville, Arkansas-based retailer who repeatedly bought and sold Blackstone products (co-conspirator No. 4).
The document alleged that after FDA increased enforcement activity on designer steroid products, including warnings and recalls of methadrol and DMZ products, DiMaggio emailed Singerman on March 13, 2014, advising him, "[o]nce you get an FDA letter I would move all of the [Metha-Drol Extreme] and Super DMZ Rx 2.0] that is left to a different location (in case they show up), and remove them from the website, and sell it to the retailers only [un]til its [sic] gone."
Blackstone issued a voluntary recall of its Super DMZ Rx 2.0 and Metha-Drol Extreme products the same day.
The government alleged the defendants were clearly still making and selling DMZ: In August 2014, Blackstone, Braun and Singerman shipped its Super DMZ products to the Arkansas retailer; Singerman sent Ventrella an email in mid-September 2014 to forward to a Chinese supplier about possibly purchasing ingredients for the Super DMZ product. A shipment of the finished product was sent to the Arkansas retailer later that month.
Then in August 2015, Braun and Singerman instructed Blackstone employees to sell the Super DMZ product through Fight Pharm as the brand Methyl DMZ, according to the indictment, which also said the defendants agreed to direct prohormone customers to Fight Pharm. During the February 2017 raid, Winsauer falsely told FDA special agents Blackstone had stopped selling Super DMZ in December 2014.
FDA sent Singerman a warning letter, dated April 24, 2015, advising Blackstone's Angel Dust product was adulterated because it was marketed as a dietary supplement but contained AMP Citrate (4-amino-2-methylpentane citrate) or DMBA, which had not undergone the new dietary ingredient (NDI) notification process to establish safety—FDA noted lack of history of use and safety data would have likely doomed any such notification anyway, as would DMBA's synthetic origin, which would not fit under the statutory definition of a dietary supplement.
However, the indictment alleged that on about April 25, just after the warning letter was issued, Braun and Singerman told Blackstone employees to sell all remaining inventory of the product. A month later, May 19, Blackstone informed FDA it stopped distributing and selling the product.
On May 20, Braun and Singerman received an email from an associate advising that an online wholesale marketplace had removed Blackstone's Ostapure product, because the SARM ostarine "has been identified as a prescription drug, a product imitating a prescription drug, an unapproved foreign drug or supplement, an unapproved new drug, or a controlled substance."
The government alleged the defendants knew ostarine was illegal for sale for human consumption but continued to make and sell it as a supplement. In June 2015, Singerman allegedly emailed Braun and Winsauer his displeasure about Ostapure ads appearing in magazines, including Muscular Development: "You had 1/3 page for OSTAPURE in the most recent one and now someone who saw it might report us to FDA."
In September 2015, Braun allegedly sent Ventura information on a Chinese supplier of SARMs, including ostarine. Later that month, responding to a customer email inquiry about why Blackstone had removed SARMs from its website, Boccuzzi wrote, "Too much of a risk to sell, fda is investigating." Around the same time, Braun emailed several of the defendants, "I don't even want SARMS in my warehouse ... I am more nervous about this then [sic] I was about the Pro_ hormones," according to the charges. The day after that email, Ventura allegedly emailed the Chinese supplier looking to buy SARMs and prohormones, and Boccuzzi told a Blackstone customer, via email, "I will have them in a different brand for you. I had to get them off the [Blackstone] label."
The government alleged Braun sent emails in October 2015 about SARMs, indicating that it was "Illegal to sell them!" and acknowledging they were an Investigational New Drug (IND) and illegal for human consumption. But a few days later, Boccuzzi emailed Singerman, Ventura and a co-conspirator about a "Payment for 1000 Ostapure to be entered through Fight Pharm." Shortly afterwards, Singerman allegedly emailed a Blackstone salesperson about Fight Pharm, advising to "just make SURE to explain that is NOT our company."
Among the other conspiratory acts alleged, Braun confirmed an illegal product could be sold as a dietary supplement via a retailer he and Singerman controlled. He also allegedly said, in an email to a Blackstone salesperson about a consumer complaint, "I'm not worried about losing the customer. I'm [sic] concerned with her making it public."
Ventrella was accused of urging an employee to hide all prohormones after being informed of a search warrant being served at his business on Feb. 17, 2016, as well as advising an employee that incoming raw material for Blackstone and Ventech products was falsely labeled, in a Feb. 25, 2016 email.
That same month, Boccuzzi falsely described himself as an FDA agent in a document entitled "Certificate of Free Sale" that he sent a wholesale customer. The indictment stated this email also said, "This is the best I can do. I dont [sic] even feel comfortable doing this because I am impersonating the FDA and our business could get shut down, tons of people will lose their jobs."
Lastly, in August 2018, Braun allegedly told a customer to ignore a request by an FDA special agent for an interview about Blackstone.
Subscribe and receive the latest insights on the healthy food and beverage industry.
Join 47,000+ members. Yes, it's completely free.
You May Also Like
---