Sustainable krill oil product production in the USA – article
Sustainable krill oil product production in the USA – article
In our Ask the Experts series we spoke with Noelia Castro, CEO of Aker BioMarine Manufacturing in Houston TX., to discuss technology, sustainability, innovation and the increasing role of women in manufacturing operations.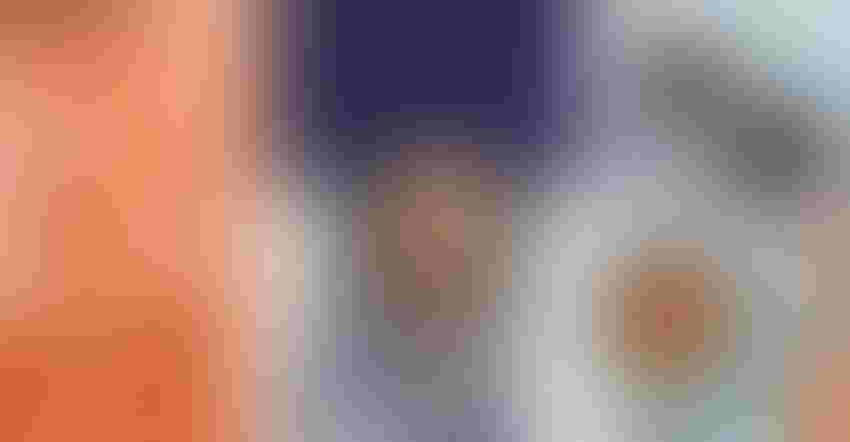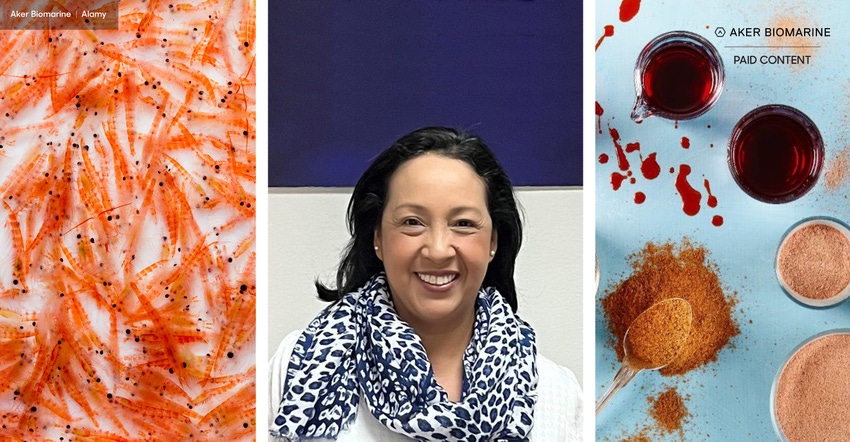 Sponsored by Aker BioMarine
A leading manufacturer, supplier and producer of krill-based supplements and other wellness products, Aker BioMarine is already a company well-known for its commitment to sustainability. The Norwegian firm harvests the shrimp-like krill from the cold, clean waters of the Antarctic based on the latest science-based conservation strategies and regulations. But the international company's emphasis on planetary health and social governance extends across its supply chain to its Houston, Texas manufacturing facility. In this "Ask the Experts" report, we talk to Noelia Castro, CEO of Aker BioMarine Manufacturing, about how the U.S.-based site employs technology to develop and produce a wide portfolio of ingredients sustainably and efficiently. In addition, Noelia explains how the Houston facility supports innovations for new products, including a recently launched phospholipid delivery system for improved bioavailability of supplements. She also discusses her own experiences as a woman in what has traditionally been a male-dominated field.
The Expert:
Noelia graduated Rice University with an MBA and has a Bachelor of Science, Industrial Engineering, from Texas A&M. Noelia is an accomplished leader. She has a Six Sigma Green Belt Certification and is certified in Executive Leadership Coaching, Safety Engineering, as well as Servant Leadership. She joined Aker BioMarine with more than 20 years of senior leadership experience in the manufacturing, packaging and shipping industries. She previously served as the Plant Manager for Riviana Foods, a leading manufacturer, where she directed both the manufacturing and shipping operations. Prior to this role, Noelia also consulted and worked as Assistant Plant Manager and Finished Goods Plant Manager.
1. According to the U.S. Department of Commerce, women only make up about 30% of the manufacturing workforce, while only one in four manufacturing leaders are women. In addition, only about 30% of operations managers are women. Would you talk about this gender gap in the manufacturing/operations sector and your own experience as the CEO of Aker BioMarine Manufacturing, as well as your 20 years as a plant manager and operations manager at Riviana Foods? Do you see positive changes happening?
Reflecting on my own career, joining manufacturing as an engineer, and then progressing into leadership roles, I have been fortunate to work with a group of amazing mentors and peers over the years. I have been and am currently part of an organization that embraces diversity and the tremendous value and contribution that having team members from different experiences and backgrounds brings to the organization. From my perspective, continuing to encourage entry of women into manufacturing will allow the industry to leverage a different approach and perspective to solution-finding, innovation growth, and team development, allowing for a stronger competitive advantage. Although I have witnessed a gradual and steady increase of women in manufacturing over the years, I believe we still have much opportunity to increase the participation of women in the manufacturing workforce and to gain the value that such participation will bring to the industry.
Aker BioMarine believes in a diverse workplace, where almost half of our executive management team is made up of women. Working alongside some of the brightest women in our industry here at Aker BioMarine helps validate that the lane is wide open for women to follow their dreams and passion.
2. Aker BioMarine is unabashedly proud of its commitment to sustainability and traceability. While the focus is often on the krill-harvesting operations, would you talk about the ways how the Houston facility is reducing its carbon footprint and ensuring quality through the supply chain?
As an organization, we're on a mission to improve human and planetary health. Houston Manufacturing supports this vision in various ways including through our sustainability and traceability efforts. Our key contribution is in ensuring circularity and positive revenue on principle waste streams. Through significant improvements in manufacturing efficiencies, we are maximizing production output and increasing manufacturing capacity, while minimizing waste streams and reducing carbon intensity. We are also exploring alternative energy sources and renewable energy certificates with intent to integrate such alternatives in the future.
3. What role does the Houston facility play in the processing and manufacturing of the krill harvest? Please describe the operations that take place under your purview.
Aker BioMarine is the world's leading supplier of krill, the 100% natural and health-promoting source of nutrients from the pristine waters of Antarctica. Krill harvested in Antarctica is delivered to the Houston Manufacturing facility via ocean freight through the Port of Houston, in Houston, Texas.
Houston Manufacturing has over 10 years of experience in the development of extraction and purification of high-quality omega-3 krill oils, using non-GMO materials. The manufacturing site is a registered FDA food facility and is GMP certified.
With its unique Flexitech Technology, Houston manufactures a high-quality dietary krill oil ingredient from the krill harvest. We also focus on the conversion of waste to value by making high protein meal from krill meal after extraction for the feed and aquaculture market, and for further processing to protein for human consumption. We then distribute our krill oil and protein ingredients to our customers in the USA and around the world.
At Aker BioMarine, we are dedicated to finding unique solutions for the future, and continually trying new things that will help push the krill oil market forward. We are a big part of that forward-thinking mentality here in Houston.
4. Aker BioMarine is launching a new phospholipid delivery system for supplements called PL+. Would you talk about the role your facility has in developing new products and ingredients?
At the Houston Manufacturing site, we have a dedicated Technology Development Laboratory and Team to support new initiatives from Lab to Pilot to Production scale. We have the capability to support new product and process development, scale up and industrialization, obtaining regulatory approvals for targeted markets and products, and in-house Quality Assurance and Quality Control systems for supporting new products. Besides krill-based products, our expertise is equally applicable to other marine raw materials, plant and herbal extracts and both ethanol and water-extraction processes.
The Technology Development Laboratory is also equipped to support the formulation of new products including krill and fish oil blends, high DHA-oil blends, addition of vitamins or other supplements as well as custom concentrations and formulations.
5. The company emphasizes technology and big data in the management of its operations. How does the Houston facility leverage different technologies to digitize operations in order to become more efficient? What innovations do you see the company adopting or further developing in the future?
Houston Manufacturing leverages big data, data analytics, and data visualization for continuous in-process monitoring, trending, and tracking of data. Over the last two years, significant performance and efficiency improvements were achieved, as a result, of proactively drawing conclusions from these data and finding viable opportunities to improve the manufacturing process and overall production efficiency.
For the future, we expect to continue to gain value from additional visualization and mobile analytics. We also continue to explore machine learning capabilities with the intent to continue to optimize decision capabilities and manufacturing performance.
6. Reshoring of manufacturing is renewing emphasis on products "Made in USA." Would you talk about why that label may be important to both your customers and consumers, and what it represents in terms of quality assurance?
We are customer obsessed and strive to manufacture the best krill oil in the market. Our krill oil is made in the USA, complying with the highest quality standards. Aker BioMarine is committed to providing our customers the best quality krill oil in the market while supporting American jobs. As one of the biggest markets for krill oil, the US is home for me and my team and we are excited to provide our customers with krill oil made in the USA. Aker BioMarine is global in scope and vision, but our local presence and roots in Houston is an important part of our supply chain and our company story.
7. Anything you'd like to add about your role and responsibilities as CEO of Aker BioMarine Manufacturing that are pertinent to the manufacturing of high-quality krill oil products?
At our Manufacturing facility in Houston, Texas, we are committed to innovation, R&D, quality, and safety. With our exclusive Flexitech technology and our talented teams, we are dedicated to finding unique solutions for driving krill oil manufacturing and innovations and producing what is probably the best krill oil in the world.
We are 100% committed to our customers and partners and we know that origin matters, especially to our US-based customers. We are vertically integrated from catch to capsule and proud to be made in the USA from Wild Caught Antarctic Krill.
Traceability and sustainability are a major part of our company's DNA, and by controlling our entire supply chain, we have the ability to trace each and every batch of krill oil directly back to its starting point in the Southern Ocean. The journey starts in the pristine Antarctic waters and then makes its way to our production plant here in Houston, Texas, before shipping quality krill-based ingredients to our customers in the US and around the world.
We are excited to service our customers and welcome an opportunity to establish new partnerships and collaborations and share more about our operations. Come visit us in Houston!
Subscribe and receive the latest insights on the healthy food and beverage industry.
Join 47,000+ members. Yes, it's completely free.
You May Also Like
---