C-suite stories: The man who turned spent barley into a sustainable ingredient
C-suite stories: The man who turned spent barley into a sustainable ingredient
Natural Products Insider correspondent Denis Faye profiles the CEO—and story—of Anheuser-Busch InBev's ingredient business EverGrain.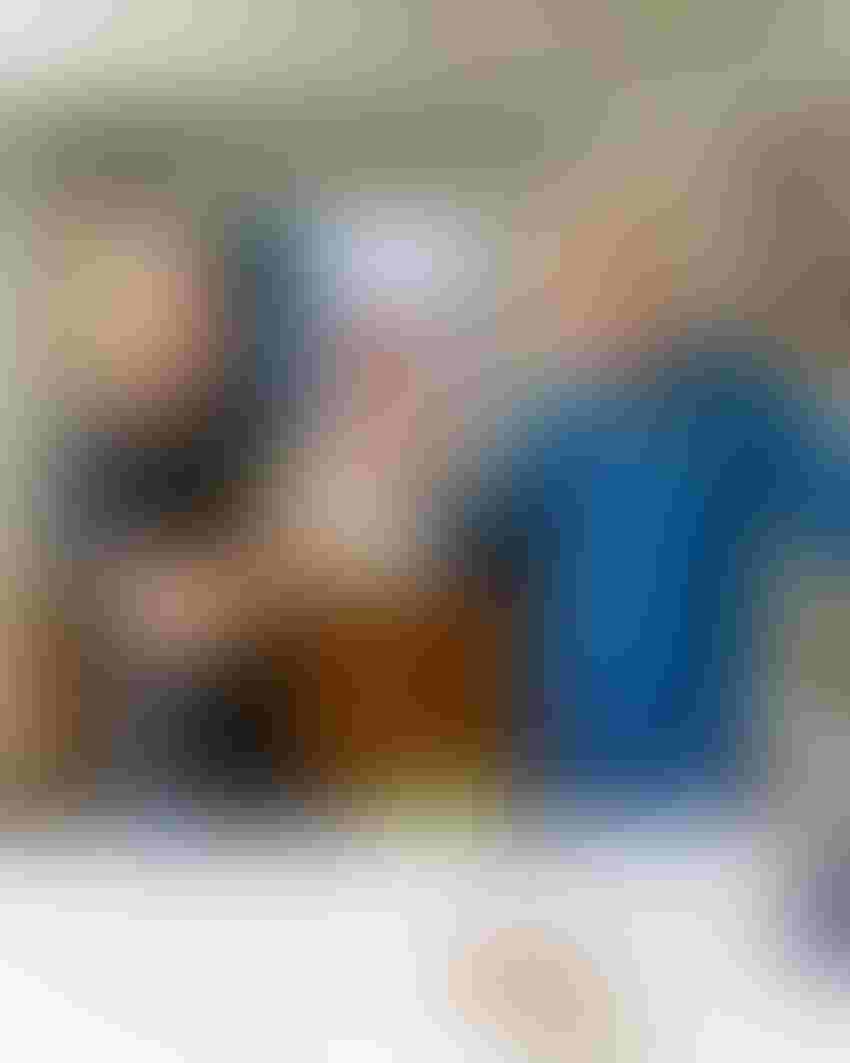 Greg Belt (right) and former UFC fighter-turned-vegan advocate James Wilks share a salad while celebrating the launch of Wilks' new FYTA plant protein shakes.
Photo courtesy of EverGrain
"Oh! You want to do this now?" Greg Belt asks over Zoom in his Chicago hotel room.
It's 7 o'clock in the morning on July 17, 2023, and he's taking care of business before heading over to the IFT Expo to tell the world about EverGrain, the sustainable ingredient company he conceived and helms.
Owned by Anheuser-Busch InBev, the world's largest brewer, EverGrain upcycles spent barley from the brewing process to make high-quality protein for food and supplements.
But enough about EverGrain for now. This call was arranged to discuss the life and times of Greg Belt himself—even if he thought it just was meant to be a quick check-in.
Undaunted, the hardest workin' man in the upcycled barley biz soldiers on.
"If you can accept a little bit of grogginess due to the fact I arrived in Chicago at 2 a.m. and I'm still having my coffee, I'll be okay," he says with a resolved grin. "Let's do this."
Work has 'its own costs'
As the CEO of a company, a husband and father of three kids, Belt is a busy man, and he acknowledges achieving work-life balance was a learned trait.
"Early in my career I didn't have that," he admits. "I just was so concerned about providing for the family that I would put all the effort into working, and that has its own costs. So, I think over time I've become wiser."
Today, his EverGrain team may have to wait a few hours for a meeting so that he can attend his daughter Caroline's swim meet. On the other hand, there are times when he needs patience from his wife, Kate, as well as Caroline and his two sons, Henry and Owen.
"There are moments in work, which are super, super critical," Belt says. "I tell Kate, 'You're not going to see me for the next 48 hours. I have to do this.'"
"But I'll come out the other side and I think that's important."
A man of average talents?
Belt will tell you he learned during his vagabond youth—moving from California to Virginia to Pennsylvania—that he is a man of average talents.
"I always had the skillset of being kinda good at several things, but not exceptionally great. I was not an exceptionally great writer. I was not an exceptionally great mathematician, but I could do a little bit of both."
Others disagree. Harold Schmitz, Ph.D., senior scholar with the Graduate School of Management at UC Davis, who met Belt in 2021 and now serves as chair of the EverGrain Science Advisory Board, insists Belt is "pretty damn good" at what he does.
This supposedly-middling-although-probably-just-being-modest skillset led to an undergrad major in economics with a minor in English. His education was followed by a sales and account management job at the software start-up Ariba, which would become SAP Ariba in 2012. Belt describes his six years there as a "roller coaster of how a company grows."
The experience would influence his hiring practices at EverGrain.
"The Ariba founders brought in a very diverse and unique set of talents, and it really shaped how I view business in general, from the sense of when you bring amazing people together that are driven and cooperate within a team, it seems like you can do just about anything," Belt says.
After six years, Belt decided it was time for a change. He left the startup for international machine manufacturing corporation Emerson, where he worked in procurement.
"That was a good experience," he muses. "It taught me how you manage a large corporation. At the time, Emerson had 60 different business units. They really ran that company based on processes.
"So, I got the two ends of the spectrum—the startup life and then the corporate life."
Simultaneously, Belt earned his MBA at Washington University in St. Louis, Missouri. Upon graduation, he did a quick personal check-in and realized he wanted to return to the startup world. However, at this point, he had three kids under the age of 6 and an ever-replenishing stack of bills to pay. A risky job shift wasn't on the table.
'Big startup' AB InBev
Along came AB InBev. At first, transitioning from one global behemoth to another didn't seem ideal, but a grad school colleague convinced Belt otherwise by pitching the beverage giant as "kind of like a big startup."
The Belt family was already in St. Louis. He had nothing to lose, so he figured he'd test the company out. "I've been on that train ever since."
Belt spent the next five years bouncing from one position to another at AB InBev. Eventually, he ended up in Leuven, Belgium (so much for the safety of St. Louis), where he assumed global management of brewery by-products.
And that, as he puts it, is where the story of EverGrain begins.
While barley is pivotal to making beer, the brewing process only uses a small part of the grain. At the risk of oversimplification, some of the carbohydrates are extracted to make beer, leaving behind a mass of additional carbs, protein and fiber that resembles a pungent oatmeal. This oatmeal is called brewer's spent grain—BSG for short.
By Belt's estimate, the beer industry generates about 9 million metric tons of BSG annually. AB InBev creates 1.4 million of those tons. And it was his job to figure out what to do with it.
Typically, BSG is used for animal feed. This didn't seem ideal to Belt and his team for several reasons. First, BSG is about 30% protein.
"If you look at spent grain as an agricultural crop, it would have the third- or fourth-highest protein percentage behind soy, lupin and pea," he explains. "It's 3 million tons of protein. And that's a lot of protein!"
Second, BSG is 80% water and the cost of shipping water sometimes hundreds of miles to feed dairy cows doesn't make much sense.
Belt enlisted Dr. Elke Arendt from the Cereal and Beverage Science Research Group at the University College Cork in Ireland for an exploratory product development tour.
That journey wandered from Scandinavian beer bread to nutritional flour to a process by which protein isolate could be extracted from the BSG.
Growing responsibilities
As exciting as the evolution of EverGrain was, Belt's responsibilities had shifted beyond managing 1.4 million metric tons of stinky oatmeal. He was now working on the company's renewable electricity or renewable energy initiatives.
"EverGrain was basically my night job," he says.
Then his day job expanded. Belt was asked to take on a new role, bringing together the company's various sustainability initiatives.
"It was nice," he concedes about assuming the new role. "They said, 'Greg, you should have a positive impact on the world. It's a must-have!'"
It also proved to be an eye-opener.
"When I started working in sustainability, I really had to educate myself on all these other programs," Belt explains. "That's when I got a deeper understanding of the world's problems, like malnutrition, environmental sustainability, equity and inclusion."
An 'aha!' moment
Then came an "aha!" moment. "I was like, 'Holy cow, the world has a lot of deep problems! Where does the world actually need the beer company's help?'"
The answer, in his opinion, was EverGrain, which had grown from a group of scientists swapping Swedish baked goods recipes to a fully viable ingredient supplier.
"I wanted to work on EverGrain full time," he says. "As much as I enjoyed the sustainability role, I didn't just want to go to conferences and talk about things. I wanted to be the guy. I wanted to be on the team that was doing it."
This proved to be easier said than done. Heading up AB InBev's sustainability efforts was a steady gig for someone supporting a family of five. Running a minor, not-yet-profitable initiative within a major, for-profit company to sell a novel ingredient (barley protein they've dubbed Everpro) would be a hell of a lot riskier.
As Belt's boss at the time put it, heading up EverGrain would be a "one-way ticket." There'd be no turning back.
"Undoubtedly, there were people sitting across the table from him saying, 'If you want to do this so badly, then great, go do it—but here's what it's going cost you, and good luck,'" UC Davis' Schmitz says. "Most people would say, 'I'm going to stick with the corporate sustainability 'cause that looks pretty good' but that wasn't enough for Greg. He made personal sacrifices and professional career path sacrifices to do this."
Belt knew what he wanted to do, but it remained a hard decision.
"It would have been a lot easier to stay on the normal career path," he concedes. "It was a decision that Kate, the kids and I made together."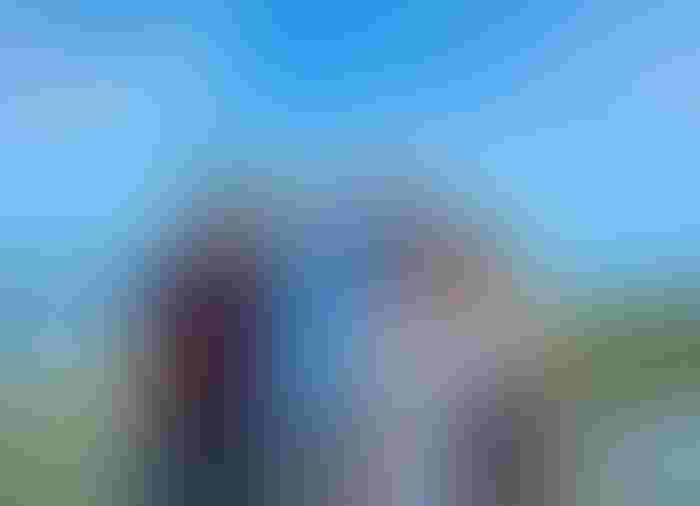 The Belt family spend time on the beach (from left to right: Owen, Greg, Henry, Kate and Caroline). (Photo courtesy of Greg Belt)
'
We always have choices'
"One of the biggest things Greg always says is that we always have choices," says his wife, Kate. "I never felt pressured or coerced, so that made it a lot easier, knowing that I could say, 'This is enough. We can't do this anymore.' On the flip side, when you see all the wonderful things he was doing with his job, it makes the decisions for you."
By now, the family had moved from Belgium back to the states, specifically Pittsburgh, Pennsylvania. As always, concessions were made for the kids. Greg and Kate listened to their concerns and let them voice their frustrations. They were also given ownership of what schools they'd attend.
In the middle of the Covid-19 pandemic, Belt now had to commute six hours weekly to Carlstadt, New Jersey, so he could be close to EverGrain R&D and pilot trials. It was a major family sacrifice that he claimed still has lingering effects.
For someone who had spent his career making smart, balanced moves, buying that EverGrain ticket seems anomalous, until you talk to Belt about his company for a while. In fact, the word "company" rarely comes up in favor of words like "mission" or "mindset."
Belt believes in what he's doing—and he surrounds himself with similar true believers, creating an "ever grounded, ever giving" workplace culture.
"You look at a person's motivation," he explains about EverGrain's hiring criteria. "Why are they here? Why do they come in? Why do they answer email on the weekend? Why do they do this? If their heart is in the right place and they're doing it to have an impact on the world, then that's really important."
He adds, "If you leave your ego at the door and you just focus on the mission, you focus on the purpose, you can create [something] pretty special."
So far, he and his team's efforts appear to be paying off. In July 2022, EverGrain opened a production facility on the Anheuser-Busch brewery campus in St. Louis. (The Belt family relocated there in 2020 when construction first began.)
They currently produce three barley protein isolates, including a clear version that works in sports drinks. As a B2B, the ingredient supplier is gradually collecting a diverse portfolio of customers, including Nestlé's Garden of Life, nonalcoholic beer makers Athletic Brewing Company, and UFC fighter turned vegan "game changer" James Wilks' new brand FYTA.
"I've gotten to have a front row seat to watch this from when it started," Belt's wife Kate says, "to watch them build the plant and here in St. Louis. He's so passionate about making the world a better place, and I think that rubs off on the whole family."
Work-life balance
Outside managing EverGrain, Belt finds time to chair the board for the international hunger relief nonprofit organization Rise Against Hunger. Oh, and be a dad.
With all this in mind, it's hard to believe he has a healthy work-life balance. Belt insists he has time to spend with Kate, as well as the kids and his dogs.
And he has shared with his progeny what he considers to be his mission.
"I tell them that when they help me and mom, that helps EverGrain," Belt says. "And I think that's important to share. It's not just a Greg thing. EverGrain is really anyone who contributes to the movement. And I think they feel like they have."
"We knew the EverGrain path would be harder and more uncertain, but it felt like the right thing to do," he adds. "I think Kate and the kids are proud of it. In the end, we took our shot to make a positive impact in the world."
Subscribe and receive the latest insights on the healthy food and beverage industry.
Join 47,000+ members. Yes, it's completely free.
You May Also Like
---