Tablet Formulation 101
Tablet Formulation 101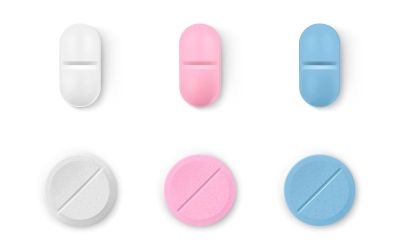 Manufacturing natural products presents special challenges to dietary supplement formulators, including addressing variables in production of tablets. Minimizing those variables and having a clear view of them up front is imperative. When approaching the formulation of a new tablet,  a formulator should have all the facts before he begins. Taking the guesswork out of raw material attributes is important to the success of a formula, and can shorten the research and development (R&D) cycle of the product. Not all raw materials are created equal; knowing the physical characteristics of the available materials and making the right choice up front will help keep the product running within spec batch after batch.
Two of the most important raw material attributes to be aware of are densitybulk and tapped, particle size and characteristics. If there is a goal weight or tablet size for the product, knowing the density and particle size of the active ingredients will help in determining the necessary type and amount of excipients and whether further processing should be done on the active ingredients to increase density or alter particle size. The type of particle is another issue to be aware of. Is it a solid granule or is it a crystal? Is it fibrous and spongy, or hard and heavy? Spongy materials tend to act against compressive forces and lead to a weak tablet. Crystals tend to shatter during compression and can lead to a highly friable tablet. Depending on the concentration in the formula, these attributes may need to be altered before compression of the tablet.
Ingredient flow is a function of tapped and bulk density, and can be related to particle size and shape. How compressible a material is will have a relation to how well particles can flow past one another into the final compacted tablet form. Ambient conditions can have an effect on ingredient flow as well. It is optimal to keep a consistent range of temperature and humidity in the manufacturing environment. The range matters less than the range's  consistency so formulations behave predictably. Proper flow is ultimately impacted by a variety of factors, and addressing those factors ahead of time and maintaining consistency from batch to batch will ensure production of a uniform tablet that meets specifications every time.
Solubility of ingredients is an often overlooked property in dietary supplement formulation. Solubility can have a huge impact on the disintegration time of the finished tablet. If the selected active ingredients for a product are not soluble, it is important to choose excipients that are soluble. When working with highly insoluble actives with low excipient levels, it is important to make the best use of the space available for excipients, whether that involves inclusion in the granulation process or as part of a direct compression.
A variety of equipment is available in order to measure these attributes. Density is most often measured by a tapped density tester following US Pharmacopeia (USP) methodology. Particle size is still often measured through sieve testing; however, if additional throughput is needed, a particle size analyzer using laser diffraction or similar method can be used. Flow and compressibility characteristics can be analyzed using the Hausner ratio and the compressibility index, which use the bulk and tapped density of a material to further understand its properties. Modern flow testers may be a better choice for gathering data consistently about these physical characteristics for a given material or blend. Whatever method is used to collect the data, it is important to keep the collection process consistent so appropriate comparisons can be made between materials.
The challenges inherent to natural product formulation can be minimized by maximizing the information in hand. Having all available data for the raw materials in a given formulation allows the formulator to spot potential problems before they are encountered in production. This allows the formulator to address the issue by finding an alternative source of the active ingredient, by manipulating its physical attributes or through changes to the excipients. Considering all variables up front and monitoring and maintaining their consistency will ensure a uniform, quality product produced from the first batch through all subsequent batches.
Jim Sarti is the vice president, formulations, at Arizona Nutritional Supplements; he has worked at the company for 10 years in formulation, R&D and quality. Sarti holds a bachelor's degree in microbiology from Northern Arizona University.
Find more information on tablets in INSIDER's Contract Manufacturing Content Library.
Subscribe and receive the latest insights on the healthy food and beverage industry.
Join 47,000+ members. Yes, it's completely free.
You May Also Like
---