Sparkling Beverage Trends Join the Culinary Party
Sparkling Beverage Trends Join the Culinary Party
Lemonade, craft soda, iced tea and cocktails (from mocktails to beer—or liquor-based) are but a handful of beverages tapping into the latest culinary ingredient trends.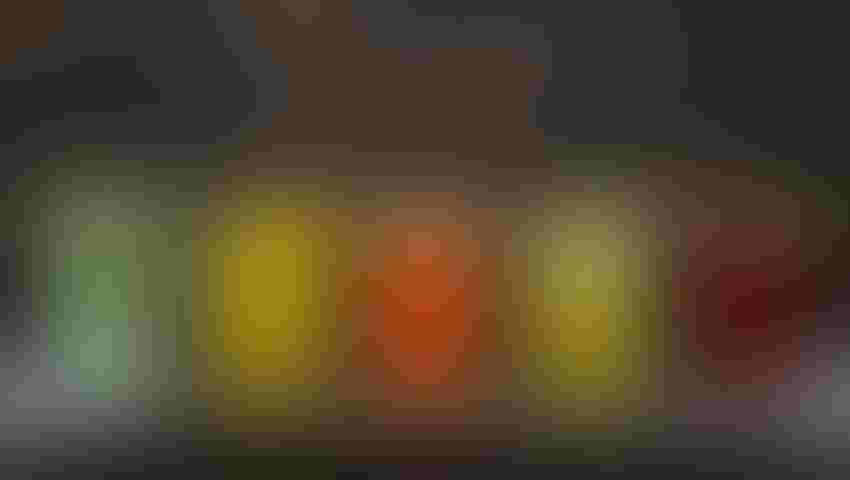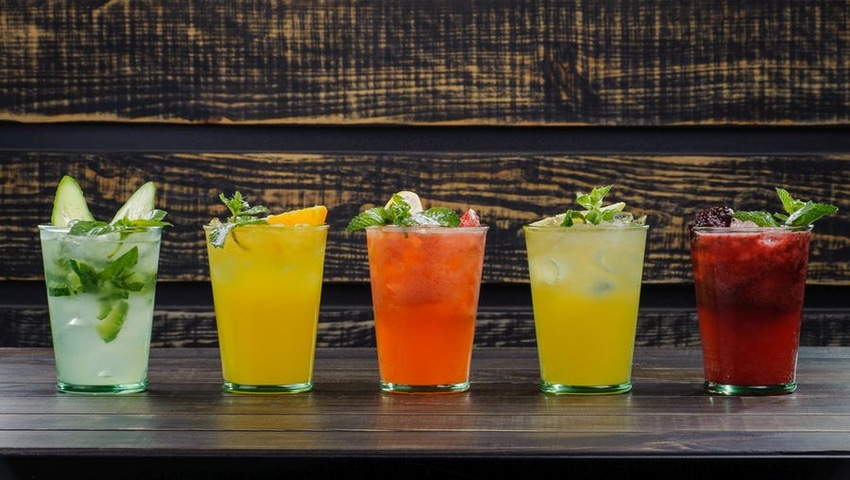 The beverage category is one of the lead areas for experimentation. Culinary cocktails are among the groups in the spotlight. Sparkling beverages fit into every category. Everyone wants an invitation to the party—and just like guests at a party, they group into cliques as they mingle with familiar partygoers. When a beverage is not classically known for being bubbly, then it can show up to the party with bubbles as its "plus 1."
Party Goers
The first clique we meet includes the herbs, seasonings and florals. They add mystery and elegance to the party. Ginger is one of the guests and is showing up in ginger beer (found in the Moscow mule), but also in craft ginger ale and ginger syrups. Salt is here as well, appearing on salted rims, as smoked salt, and even as salted drinking caramel. And smoke itself is a guest. Infused ice, another guest, is also sporting a jacket of smoke. Ice has also been seen fraternizing with herbs, spices, florals, fruits and vegetables as their chauffer. Herbs socializing with the group include lemongrass, lime leaf, basil, rosemary, thyme, sage and mint, which are conversing with lemonades, iced teas and cocktails. The florals easily mingle with guests and can be seen as lavender infusions and bitters, chamomile flowers and tea infusions, rose petal garnishes, chive and rosemary blossoms, marigolds and nasturtiums. They cross-mingle as orange blossom syrups, in hibiscus mimosas, butterfly flower-infused vodka and floral craft sodas.
Preserves and sweeteners are at the party, too. The same do-it-yourself (DIY) preserving and fermentation trend from the kitchen has moved into the bar. Preserves wear many outfits, including drinking vinegars and shrubs. DIY shrubs can be made with fruit, raw vinegar and flavorings such as ginger, fresh mint, basil, savory herbs or hot chilies. Think of them also as house-made pickles for martinis and Bloody Marys. Jams and marmalades appear at craft bars as finishing ingredients. And sweeteners rounding out the group include honey, maple syrup, palm sugar, molasses and spiced syrups such as habanero syrup.
Fruits are always the toast of the party, as they have been cavorting with beverages the longest. Apples are among the current darlings, and show up as apple brandy, hard cider, baked apple bitters and dried apple garnishes. Grilled fruits—including pineapple, mango and peaches—are riding the coattails of the open-flame cooking trend. Exotics and citrus, including blood orange, calamansi, finger limes, zebra lemons and coconut, come arm in arm with the tiki trend. And fruit infusions are at the head of the party's conga line with rhubarb-infused vermouth, mango vodka, apricot liqueur, watermelon mimosas, lime-infused beers and house-made sodas incorporating berry and mango.
Vegetables are coming in as a dance partner to fruits, but also mix well with the herbs and seasoning clique. Cucumber is now mainstream in beverage, but is followed closely behind by celery, dandelion, avocado and kale. Arugula is said to be the new basil for craft cocktails, along with beets, snap peas and carrot showing up—as in a beet and celery michelada (beer-based cocktail), smoothies, carrot-top syrup, and Bloody Marys with homemade pickles, according to Kathy Casey, pioneer in the bar-chef movement, and Philip Raimondo, former bartender turned beverage guru. And 100 percent natural vegetable tinctures paired with basil, sage and ginger are no strangers to the party.
Proteins and grains arrive to the party as snacking garnishes, such as candied or smoked bacon, octopus and even venison-infused ice. They also express themselves as full meal garnishes, including a mozzarella pizza, grilled cheese sandwich, beef brisket slice or whole smoked fish. Grains are flirtier and less intimidating than the protein posse. Pretzel and cookie inclusions can easily commune with both the cocktail or dessert drink crowd, while chia and oats congregate with breakfast beverages and smoothies. And don't forget the delish party girl—horchata, the creamy rice-based drink from Mexico.
So join the party; we never run short on food or drink, and our guests are fun, flirty and always mix right in.
Suzy Badaracco will be delving more deeply into the overlap between beverage and culinary trends at SupplySide West 2016 during the Sparking Beverage Innovation workshop, Wednesday, Oct. 5.
Suzy Badaracco, president, Culinary Tides Inc., is a toxicologist, chef and registered dietitian. She holds a bachelor's degree in criminalistics, an associate's degree in culinary arts, and a master's degree in human nutrition. Badaracco has worked as a trends forecaster for food industry clients since 1992. Trained in military intelligence, chaos theory and predictive analysis techniques used by both corporate and government bodies, she has been practicing trends intelligence and predictive forecasting for more than 14 years. Using these techniques, Badaracco has been able to predict and profile government, technology, food, flavor, consumer, industry and health trends.
Subscribe and receive the latest insights on the healthy food and beverage industry.
Join 47,000+ members. Yes, it's completely free.
You May Also Like
---