Market Opportunities for Clean Label Gums & Starches
Market Opportunities for Clean Label Gums & Starches
When it comes to creating appealing textures in foods such as sauces, soups and condiments, many product developers eliminate artificial gums and modified starches in favor of clean label alternatives to meet consumer desires.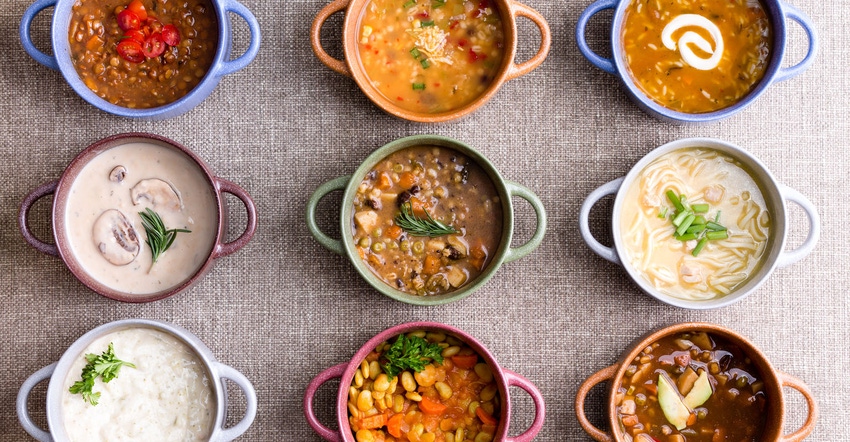 While consumers are looking for convenience in the kitchen, they still want foods that provide homemade textures with simple ingredient decks. Qualities such as viscosity, opacity, mouthfeel, shelf extension and stabilization are critical to product success, but reformulating and repositioning mainstream products to carry a clean label declaration isn't as easy as it sounds.
Whether a sauce, soup, frozen dessert or refrigerated entrée, the product must meet consumers' expectations on many fronts, including taste and texture. Enter the multitude of natural gums and starches available to product developers.
Gums and starches fall under the umbrella of hydrocolloids, which are widely used in a variety of applications such as prepared frozen meals, soups, sauces, dressings, processed meats, frozen desserts, dairy products, fruit preserves and confectionery.
Hydrocolloids commonly used as thickening agents include starch, xanthan gum, guar gum, locust bean gum, gum karaya, gum tragacanth, gum Arabic and cellulose derivative. Those commonly used for gelling purposes include alginate, pectin, carrageenan, gelatin, gellan and agar. Label-friendly native starches are derived from sources such as maize, waxy maize, high amylose maize, wheat, tapioca, pea and potato.
The global hydrocolloids market has witnessed steady growth due to the varied functional attributes of hydrocolloids, as well as an uptick in consumer demand for convenient prepared foods that are minimally processed and contain natural ingredients. According to Mordor Intelligence's 2017 report "Food Hydrocolloids Market-Growth, Trends and Forecast," the global market for hydrocolloids will reach US$8.5 billion by 2022, representing a compound annual growth rate (CAGR) of 5.8 percent.
While the report stated sector growth should be seen by brands as an opportunity to adopt hydrocolloids in their manufacturing process, the market is mainly constrained by the demand and supply imbalances. What's more, seasonal changes cause volatility in raw material pricing, thus raising costs for manufacturers. Despite restraints, the market has huge potential for growth, the report concluded.
Michelle Kozora, technical service director at Cargill, said brands looking to clean up their labels must re-evaluate their entire formula to understand which ingredients are most functional and necessary, and which ingredients can be eliminated. What's more, ingredient suppliers can play an important role in helping customers simplify product labels and manage costs.
Prepared foods is one of the fastest-growing segments within the global food industry, thanks to busy consumers seeking out convenient, nutritious and time-saving options in the form of frozen, refrigerated and shelf-stable products.
Viscosity, opacity, mouthfeel, suspension, meltaway and how the product sticks to the substrate are critical to the product's success. Depending on the application, gums and starches bring specific qualities and functions that help with stabilization, emulsification, shelf extension and mouthfeel of the finished product.
For more on this topic, download Food Insider Journal's January 2018 issue "Market Opportunities for Clean Label Gums & Starches."
Subscribe and receive the latest insights on the healthy food and beverage industry.
Join 47,000+ members. Yes, it's completely free.
You May Also Like
---