Clearing the haze of healthy oils
Clearing the haze of healthy oils
There may be no more controversial subject in nutrition than the role of dietary fat in promoting health.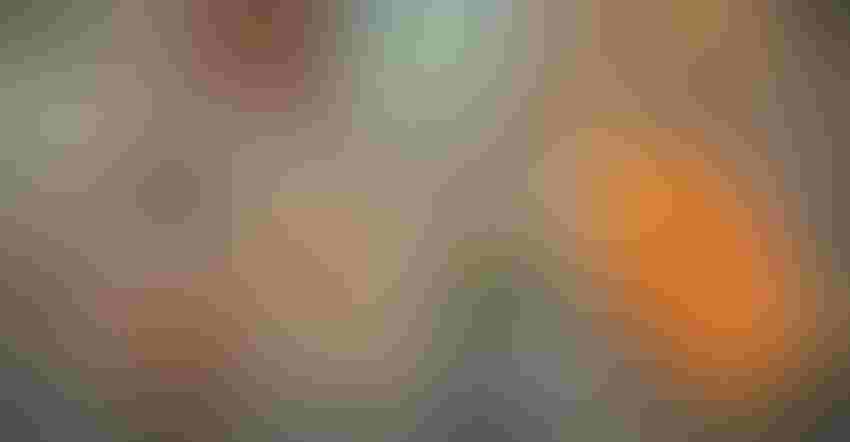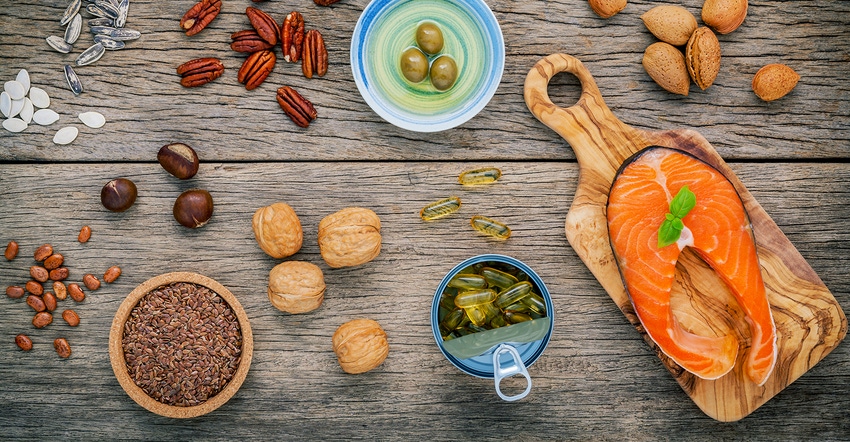 There may be no more controversial subject in nutrition than the role of dietary fat in promoting health. Considering the essential role of fat in nearly all of life's necessary biochemical processes, and the proliferation of anti-scientific folks like the blogger Food Babe, it might be asking too much to have everything nicely wrapped in a red bow at this point.
There is some low hanging fruit. The story of trans fats is consistent and appeals to common sense—garbage in, garbage out. A lot more research shows positive outcomes of polyunsaturated and omega fatty acids, especially versus the typical dietary alternatives. For example, diets high in saturated fat and cholesterol are likely to lead to negative cardiovascular and metabolic outcomes. Logic then dictates that diets that substitute healthy plant polyunsaturated fatty acids (PUFAs) instead of "bad fats" probably enjoy the absence of a negative effect.
Omega-3s in the spotlight
Omega-3s continue to grow at an annual rate of about 2 percent globally1. In 2018, more than 1,000 studies mentioning docosahexaenoic acid (DHA) were published on Medline, the busiest year ever for DHA science. In addition to the hundreds of clinical studies already published, there are more than 1,200 omega-3 clinical trials registered on clinicaltrials.gov, with more than 700 completed.
Few drugs have been studied to this extent, and for good reason. The wide-ranging benefits of omega-3s continue to emerge from the hundreds of clinical studies published in the past few years.
A controversial July 2018 Cochrane review of 79 randomized controlled trials and 112,000 subjects, one of the largest of its kind, found--despite no reduction in mortality from omega-3--both eicosapentaenoic acid (EPA)+DHA and plant-based alpha-lipoic acid (ALA) reduced plasma triglycerides and increased good HDL cholesterol2. ALA also was shown to slightly reduce risk of cardiovascular disease and cardiovascular mortality.
While a review of this size would be great and conclusive, the study muddied waters, as has become typical as the limitations of this type of study design and execution have become apparent. One of the biggest criticisms of the study was the lack of justification for the primary endpoint of mortality. That is, the study's central hypothesis was that omega-3 is a fountain of youth. As a result, the study headlines led much of the public to mistakenly believe that omega-3s are worthless.
Aside from asking the wrong primary questions, the authors failed to explain the apparent conflict between improvements in several important secondary measures and no improvement in the primary fountain of youth question. A closer critique of the study limitations suggests the typical approach taken by meta-analyses like this one may amplify, rather than limit, the bias and lack of perspective that this kind of study is supposed to control for.
Protective effects of healthy fats
Luckily, not everything in healthy fats is a controversy. Repeated studies suggest the protective effects of DHA for many people susceptible to neurological and metabolic dysfunction, including expecting mothers and their children.
A February 2019 study in the Journal of the American Medical Association (JAMA) found 600 mg of DHA per day taken by pregnant women may protect overweight children from high blood pressure3.
The potential for synergistic activity of omega-3s with other essential nutrients and therapies is becoming more apparent. The addition of vitamins E and C to DHA is a popular theme, while other studies have observed the benefits of statins with omega-3s. Recent studies also show that increasing omega-3 blood levels coupled with B-vitamins may slow brain aging4. The combination of omega-3s with vitamin D has also been shown to improve symptoms in people with mental illness5.
Since PUFAs and omega fatty acids are precursors to endocannabinoids, it makes some sense that the combination of healthy fats with phytocannabinoids like CBD may hold some promise6. Protective analogs of DHA generated in cells, such as docosahexaenoylethanolamide, an analog of the endocannabinoid receptor ligand anandamide, is synthesized from DHA in the brain7. Docosahexaenoylethanolamide binds weakly to cannabinoid receptors and stimulates neuronal growth and synaptic activity at physiologic concentrations.
Market opportunities
It's also clear that omega-3s are getting more sustainable to produce and becoming more accessible to the broader public in a wider number of applications8. Algal DHA represents a sustainable and cleaner way of getting omega-3 fatty acids, at a time when fisheries are becoming strained. The role of aquaculture and the ability to use sunlight to grow algae is becoming increasingly more efficient than traditional fish or plant-based oil production.
Advanced water extraction and other green technologies used in oil processing have made the use of harsh solvents like hexane nearly obsolete. Algal DHA also enjoys the benefit of innovations that improve the stability and sensory attributes which have historically plagued consumer confidence and compliance with fish oil regimens.
New ways of fortifying DHA into foods that taste nothing like fish and more like peanut butter and jelly represents a great potential for market growth9. The advent of plant-based seafood, on the heels of cell-based meat, represents another major opportunity to improve the environmental impact of our global food chain10.
For a list of references, email [email protected].
Blake Ebersole has led several botanical quality initiatives and formed collaborations with dozens of universities and research centers. As president of NaturPro Scientific (naturproscientific.com), Ebersole established quality compliance and product development services for supplements and ingredients such as ID Verified™. Follow him on Twitter at @NaturalBlake.
Subscribe and receive the latest insights on the health and nutrition industry.
Join 37,000+ members. Yes, it's completely free.
You May Also Like
---