The microbiome's impact on other facets of health
The microbiome's impact on other facets of health
From immune health to brain function, the gut microbiome plays a crucial role in whole-body health in a variety of ways.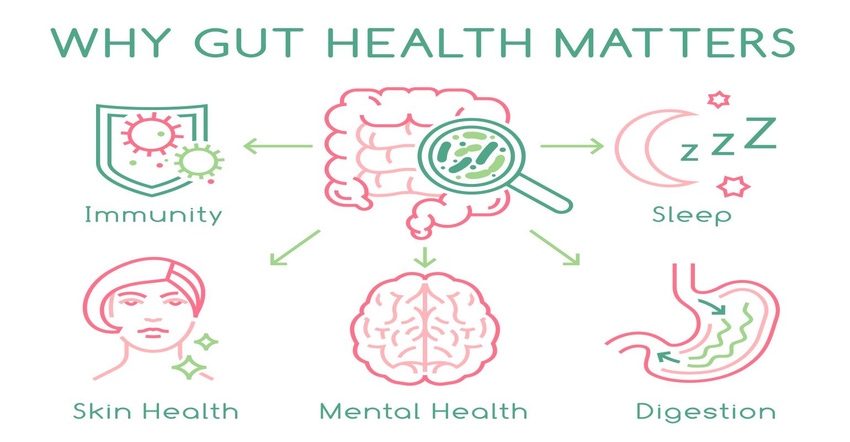 The microbiome is the community of bacteria, fungi and other microorganisms living within and on the body, specifically in the digestive tract and on the skin. The gut microbiome plays a crucial role in whole body health in a variety of ways.
Certain good bacteria digest fiber, which produces short-chain fatty acids (SCFAs) that may help to prevent issues such as weight gain, diabetes, heart disease and cancer (Nutrients. 2020;12[4]:1107). The gut microbiome also plays a role in controlling the immune system and how the body responds to infection (Nature. 2016;535[7610]:65-74). New research also reveals that a healthy gut microbiome affects the central nervous system (CNS), which controls brain function, contributing to improved symptoms of depression and other mental health disorders (Cell. 2016;167[4]:915-932).
Exploring consumers' understanding of the interconnection of their microbiome with other facets of their health provides unique perspective about what methods they are adopting to maintain a healthy digestive system and ensure stronger immune function.
Considering the gut-immune axis, almost all diseases are connected to the gut microbiome in one way or another and therefore it is vital to safeguard the integrity of the body's microbiome to help keep diseases in check. In other words, if the gut microbiome is unhealthy, immunity is diminished and the chance of disease increases. Natural Marketing Institute's (NMI's) research shows that not only do consumers believe that a healthy digestive system benefits the body's immune system (87%) but consumers are also increasingly embracing the connection of the digestive system with other health states, with 76% of the population agreeing "gut health is important to the health of the whole body, not just the digestive system," up from 68% in 2020.
The pandemic fueled people's desire to boost immunity, with reported management of immunity increasing from 10% in 2018 to 42% in 2021. What is more interesting is that reported management of digestive issues has also increased rather dramatically from 23% in 2018 to 37% in 2020, and now up to half of U.S. consumers (51%) in 2021, indicating they are managing some type of digestive issue. While some of the increase in digestive management may be due to lifestyle stressors over the past two years, perhaps consumers are being more attentive to their digestive system to ensure the health of their gut microbiome as a means to fortify their immunity and overall health.
Consumers are using a variety of products, including supplements and fortified foods, to help manage both their immune and digestive health. In fact, 3 out of 4 consumers who are concerned about preventing digestive issues also reported seeking out foods/beverages that improve their body's natural defenses and immune system. In addition, about 1 in 4 consumers who are actively managing their immunity indicate they have increased their use of digestive support supplements in the past year, indexing high against the general population.
Even further, recent product launches reflect the combination of "immune and gut health" benefits spanning categories from probiotic-fortified cookies and dried fruits to supplemental powder mixes that can be added to food or drink. For example, Elevation launched Chocolate Chip Protein & Probiotic Cookies to support digestive and immune health. Kroger launched Probiotic Prunes, fortified with active probiotic cultures, transforming an already "healthy" product into a powerhouse snack with both digestive and immune benefits, and GoLive introduced a powder supplement mix formulated with probiotic and prebiotic strains to help the body "digest, metabolize and defend."
Use of probiotics, prebiotics and condition-specific supplements for digestion remained somewhat stable from 2017 to 2020, but from 2020 to 2021 use increased, most likely triggered by the desire for gut health and immunity benefits during the pandemic. While users of these digestive-relevant supplements are primarily using them for their digestive health properties, they also reported using them for immunity, heart health, inflammation and weight management. In fact, consumers are very open to using probiotics to manage a variety of health issues beyond digestion, further evidence that a portion of consumers are embracing the expanded benefits of a healthy gut microbiome.
Editor's note: This excerpt was taken from the "Diverse microbiomes and digestive health" digital magazine. Click the link to read the full article, as well as related content.
Frank Preta has over 30 years of national and global corporate intelligence, market research, business development and management experience. Currently he is a market research director at The Natural Marketing Institute (NMI), a strategic marketing consultancy and research firm specializing in whole living and the wellness market. Preta excels in customer engagement and focuses on formulating marketing and sales strategies for his clients. For more information on the company's services or proprietary research tools, contact [email protected].
Subscribe and receive the latest insights on the healthy food and beverage industry.
Join 47,000+ members. Yes, it's completely free.
You May Also Like
---