Coloring outside the lines: Innovators disrupt the beverage aisle
Coloring outside the lines: Innovators disrupt the beverage aisle
Growing consumer demand for novelty products and a shift in market dominance of the traditional soft drink giants leaves opportunities in the beverage aisle.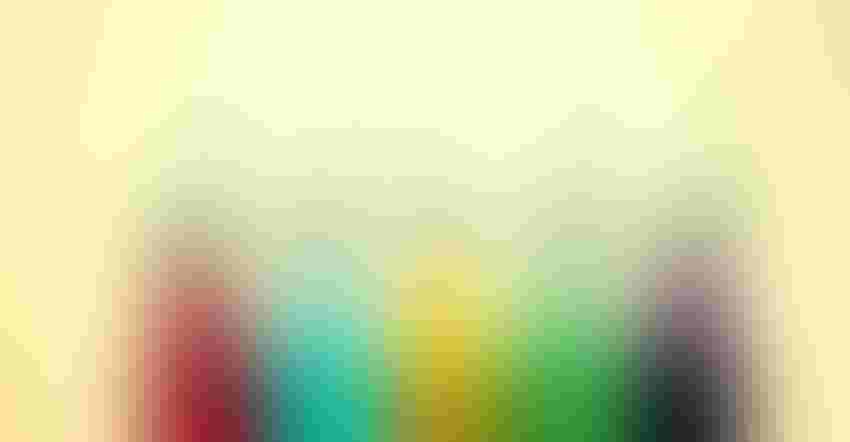 The beverage sector has long been one of the most vibrant parts of the fast-moving consumer goods marketplace. With low barriers to entry, a growing consumer tendency to seek out novelty across the food and beverage spectrum, and an ebbing of the market dominance of the traditional soft drink giants, the beverage market is wide open for disruption.
This "red carpet" approach welcoming new product innovation is reflected in recent new product launch trends. According to Innova Market Insights' Innova Database, 12 of the 21 beverage categories tracked by the market research firm saw increases in U.S. product launches of 10% or greater for the 12 months ending June 30, 2019, versus the comparable year ago period. Five beverage categories racked up new product gains of 25% or higher: flavored milk, energy drinks, ready-to-drink sports drinks, dairy alternative drinks and carbonates.
Disruptors Ignore Slow-to-No Growth Projections
To see such robust new product growth in categories such as flavored milk and carbonated soft drinks is a surprise given the muted long-term growth prospects for both areas. Innova Market Insights sees carbonates suffering long-term pain, with negative "growth" in the U.S. for the foreseeable future. But that has not deterred innovators, especially smaller companies targeting market niches.
That describes Chicago-based Petal, creator of Petal Sparkling Botanicals—a "unique organic beverage experience that sparkles with wild, rebellious, flower-powered goodness." New flavors such as Lemongrass Dandelion and Peach Marigold with a hint of basil showcase antioxidant-rich botanical ingredients in a low-sugar-content sparkling drink with just 10 calories per 12-fluid-ounce serving. Consumers do see something special with floral flavors. According to the 2019 Innova Flavor Survey, half of all consumers in the U.S. and the UK associate floral-flavored drinks with freshness and herbal-flavored drinks with healthiness.
Disruptors Focus on Non-Sweet Flavor Innovation
Non-sweet flavors offer considerable white space for carbonated beverage innovators. Cocktail mixers that can be served with or without alcohol have been filling this white space. New offerings like Hella Cocktail Company's Bitters & Soda in flavors such as Dry Aromatic provide taste without high calorie regret as each 8.4-fluid-ounce can has just 5 calories and zero sugar. The brand notes "bitters are an effective and long-trusted aid to stimulate and facilitate healthy digestion." Though Regatta Royal Oak Ginger Ale makes no functional claims, the addition of oak flavor to ginger ale is noteworthy for a beverage long associated with functionality.
Trends in health claims can help flesh out white space, and no health claim grew faster than the "sugar free" claim for the 12-month period ending June 30, 2019. According to Innova Market Insights' Innova Database, 10.2% of U.S. beverage launches made during that year period claimed to be sugar free, up from 6.9% of launches for the prior year period. Other claims showing considerable momentum include GMO free (now on more than 23% of all new U.S. beverages) and high/source of protein, now on over 9% of all U.S. beverage launches.
The latter claim is providing latitude to flavored milk makers. Confectionery giant Mars recently debuted Snickers and Twix Chocolate Lowfat Milks, a pair of specialty chocolate milks with 14 g of protein per 14-fluid-ounce bottle. At the other end of the spectrum, Burroughs Family Farms' new Organic Lavender Milk is described as a "refreshing and creative flavor" and "not something you will find on every shelf." That sense of discovery could interest the two-thirds of U.S. consumers that say they love to discover new flavors, per the 2018 Innova Trends Survey. Lavender's obvious connection with relaxation and sleep could also generate interest.
Disruptors are Not Deterred by Dominant Brands
Even categories long dominated by one or two brands are seeing an influx of potentially disruptive innovation. Energy drink brands such as Adrenaline Shoc may not make Red Bull break out on a cold sweat, but the former's approach illuminates white space that could change the game. With its proprietary high-performance natural energy blend of green coffee beans, yerba mate, coffee fruit extract and guarana along with naturally sourced electrolytes and nine essential amino acids, Adrenaline Shoc targets both the traditional energy drink space and the newer performance energy drinks market. "As the 'healthier performance' energy category grows, we believe retailers will embrace products like Adrenaline Shoc that target a younger consumer with modern demands" said Lance Collins, "serial beverage entrepreneur" and creator of Adrenaline Shoc.
Innovators from outside of traditional beverage categories may also shake things up. Berkeley, California-based Daytrip Beverages, a "cannabis lifestyle brand," endeavors to disrupt the bottled water market with Daytrip CBD-Infused Sparkling Water in flavors such as Lemon Lime and Tangerine. And in markets that permit the sale of recreational marijuana products, the company plans to introduce a THC-infused sparkling water. Controversial ingredients like CBD could disrupt established markets and brands crossing over from the dispensary side of the business may bring a new generation of consumers with them.
Learn more about market trends and how CPGs are delivering innovative beverage products from Tom Vierhile during the "How to Create Disruption in the Beverage Aisle" session on Wednesday, Oct. 16 at 1:30 p.m., at SupplySide West in Las Vegas.
Tom Vierhile is vice president of Strategic Insights North America for Netherlands-based Innova Market Insights and has more than 20 years' experience in packaged goods reporting and analysis. Based in Fairport, New York, he is a new product marketing expert and has been quoted by Bloomberg, Ad Age, The Wall Street Journal and NPR. Vierhile has given presentations on new product trends at conferences in the United States, Europe, Asia and South America. He has a bachelor's degree in marketing from St. Bonaventure University and an MBA from the State University of New York at Buffalo.
Subscribe and receive the latest insights on the healthy food and beverage industry.
Join 47,000+ members. Yes, it's completely free.
You May Also Like
---