Infowars among latest to draw FDA warning over COVID-19 claims
Infowars among latest to draw FDA warning over COVID-19 claims
Controversial and fly-by-night brands are caught up in latest FDA action against illegal disease claims for nutrient-infused products.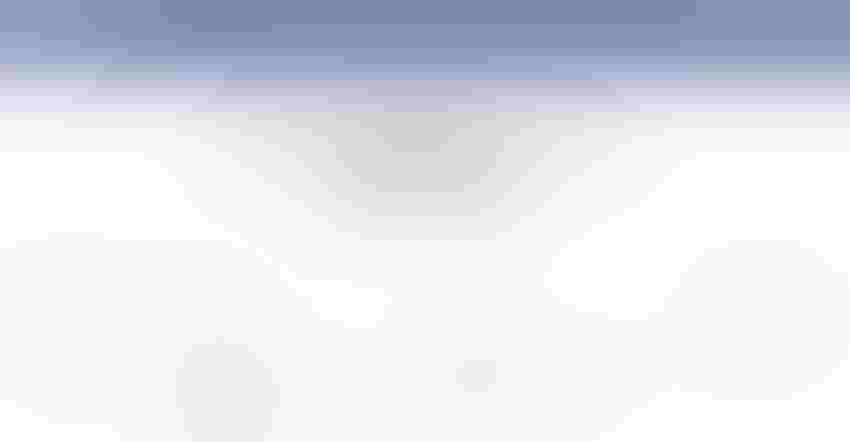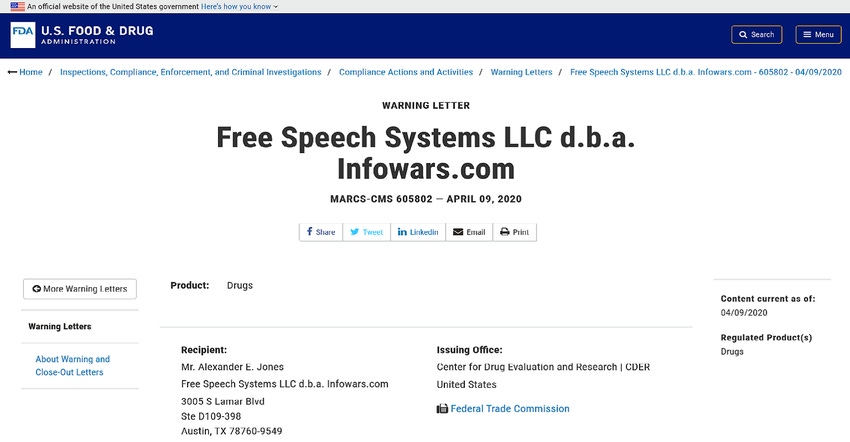 Door tags hawking a fulvic acid liquid concentrate promising anti-viral benefits implied to counter COVID-19 infection. Silver-based toothpaste and other oral health products described in promotional videos to combat viruses including COVID-19. These are the latest products being called out for illegal marketing claims by FDA.
The agency alerted consumers in mid-March about the potential for products marketed with fraudulent COVID-19 claims. "These fraudulent products that claim to cure, treat, or prevent COVID-19 haven't been evaluated by the FDA for safety and effectiveness and might be dangerous to you and your family," the agency said, in the consumer update. They sent a batch of warning letters in early March and maintain a COVID-19 fraud page housing letters, news and updates.
Most recently, the agency sent a warning letter on April 8 to British Columbia, Canada-based company NRP Organics Ltd., advising FDA found fraudulent claims made for its "Fortify Humic Beverage Concentrate" and "Electrify Fulvic Beverage Concentrate" products sold in the United States via the company's various websites and social media pages. The letter warned that claims like "HUMIC SUBSTANCES ARE A CLINICALLY PROVEN ANTI-VIRAL THAT COULD HELP FIGHT COVID-19," and "CORONAVIRUS CURES . . . PROTECT YOU, AND THE ONES YOU LOVE WITH HUMIC AND FULVIC ANTIVIRUS!" render these products as unapproved and misbranded drugs.
On March 25, the Abbotsford News reported on complaints from local residents about fliers attached to their front doors touting the fulvic products as anti-viral and immune-boosting, alongside warnings and tips related to COVID-19.
Then on April 9 FDA sent a similar warning to Alex Jones and Free Speech Systems LLC, more popularly known as Infowars, the controversial far-right website known for conspiracy theories—one of the videos called out by FDA for containing fraudulent claims was titled, "Alex Jones: Deep State Using Coronavirus Fear and Panic To Destroy Our Country." An alt-right radio host, Jones has pushed conspiracy theories on the Sandy Hook shootings and 9/11 attacks and is the alleged one-time confidante of President Donald Trump.
FDA said the company's Infowars and Banned.Video websites redirected visitors to the Infowars Store, where nano silver products such as "Superblue Silver Immune Gargle," "SuperSilver Whitening Toothpaste," "SuperSilver Wound Dressing Gel" and "Superblue Fluoride Free Toothpaste" were for sale in the U.S. and were marketed with claims to mitigate, prevent, treat, diagnose or cure COVID-19.
In another video singled out in the letter, "Experts Say Trump Must Seal The Border Like Israel & Italy Or Face Massive Coronavirus Surge," was the statement: "I'm not going to belabor this, I'm just gonna tell ya, that for just your daily life, and your gums and your teeth and for regular viruses and bacteria, the patented Nano Silver we have, the Pentagon has come out and documented, and homeland security have said this stuff kills the whole SARS corona family, at point blank range."
FDA gave each company 48 hours to inform the agency of the steps taken or initiated to correct the violations.
At press time, the Infowars videos detailed in the FDA warning letter had been removed, as were Infowars Store pages for the products named. However, a Google-cached version of the product page for the Superblue Flouride Free Toothpaste showed the disclaimer: "The products on this site are not intended for use in the cure, treatment, prevention or mitigation of any disease, including the novel coronavirus. Any suggestion to the contrary is false and is expressly disavowed."
Also down/removed were NRP Organics websites, http://www.nrporganics.com and www.coronaviruscures.com, Facebook and Instagram pages. However, prior to removal, the NPRorganics.com site included a disclaimer the products had not been evaluated by the Health Canada or the U.S. Food and Drug Administration and were not intended to diagnose, treat, cure or prevent any disease, according to Abbotsford News.
Company co-founders include real estate agent James Rutherford and marketing professional Sheila Randall, per OpenGovCA. A report from the British Columbia-based Breaker News indicated the pair have put a hold on the business and door flier campaign, but denied intending to mislead consumers.
Requests to each company for an update and comment went unanswered.
Subscribe and receive the latest insights on the healthy food and beverage industry.
Join 47,000+ members. Yes, it's completely free.
You May Also Like
---