Going Nuts for Baked Goods
Going Nuts for Baked Goods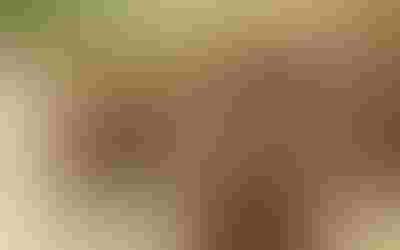 By Kimberly J. Decker, Contributing Editor
The one thing better than a super-duper double-chocolate buttercream cheesecake brownie bar is a super-duper double-chocolate buttercream cheesecake brownie bar with nuts.
Thats a handy tip for bakers to remember these days, as an increasingly crowded baking case and a fickle market make it harder for plain baked goods to stand out. Like all food industries, baking is highly competitive when it comes to winning customers, says Brian Wood, product developer, FullBloom Baking Company, Newark, CA. To do this, we need to make interesting, satiating foods that are a great value. Nuts have been used in baking to this end since ancient Egypt, and they continue to be key ingredients when we need to make something a little extra special with added flavor, texture or protein.
Health nuts
Nuts are found in all kinds of baked goods, from the obviouscakes, cookies, muffins, breads, brownies, croissants, donuts, Danishesto the not-so-obvious, like nut flours as substitutes for part or all of traditional wheat flour, or the use of nut butters and pastes to make great fillings or as a component of icings, says Everett Ed Dudley, director of R&D, John B. Sanfilippo & Son, Inc., Elgin, IL.
Nuts add taste, texture, an attractive appearance and the general sense that the product delivers a premium. In its North American Consumer Awareness, Attitudes & Usage Study, the Almond Board of California (ABC), Modesto, CA, found that consumers pick almonds because they taste better, are more nutritious, are heart-healthy and are low in saturated fat, says Harbinder Maan, manager, North America ingredient and category marketing, ABC. All of this is great news for food professionals looking for easy ways to walk that fine line between indulgence and nutrition.
Walnuts contain antioxidants, protein, fiber, magnesium and phosphorous, and are a rich source of good polyunsaturated fat (PUFA), including alpha-linolenic acid, or ALA, the plant form of omega-3 fatty acid, says Tina Salter, author of the cookbook Nuts, and a consultant, California Walnut Commission, Folsom, CA. One ounce of walnuts contains 18 grams of total fat, of which 13 grams are PUFA and 2.5 grams are ALA.
Peanuts, too, hold their own nutritionally. According to Raffaela Marie Fenn, president and managing director, National Peanut Board, Atlanta, peanuts contain more protein than any other nut. And peanut butter is among the most-affordable protein options available, upping nutrition and flavor at a lower cost. She cites studies showing that peanuts and peanut butter may aid weight management, and notes that, as a low-glycemic food, peanuts may help balance the blood-sugar impact of foods that are higher on the glycemic index.
Form fits function
The ever-widening variety of nut forms and ingredients starts with the usual halves, dices, slices and chops. Salter recommends big, bold walnut halves for glazing and as attractive toppings on baked goods, whereas she considers pieces and chops the best choice within a baked good, as in a quick bread or muffin.
Almond kernels lend themselves to slicing, slivering, dicing, and cutting into halves, or splits. Each type of cut can have a different thickness or particle size, Maan notes. Natural cut formswith skins onare appealing choices to complement light-colored food products, but most almond varieties can be easily blanched to remove the skins prior to further cutting. These creamy-white cut forms are perfect options to complement darker-colored food products.
Maan suggests using small diced, sliced or slivered forms for topical application on pastries and cakes. Small whole kernels, and those cut forms, can also be used as inclusions in breads, cakes, cookies and pastries to improve texture, taste and nutritional profile.
Priscilla Martel, a baking expert with ABC, notes that slivered or granulated almonds might require additional starches or gums for suspension in loose muffin, quick-bread or cake batters. Alternatively, finely ground and sliced almonds work well under those conditions, she says.
Polly Owen, manager, Hazelnut Marketing Board, Portland, OR, cautions developers to be aware that smaller nut pieces can take on moisture in batter-based goods. Generally, nut bits should be coated with sugar, fat, starches or an edible wax to keep them crunchy if they are incorporated into a batter, she advises. The extra step prevents oxidation and extends the nuts shelf life in a dry mix.
In yeast-leavened breads, nuts will disrupt gluten structure to some extent. Dudley notes that supplementing a bread formulation with a higher-gluten flour, as well as using the appropriate dough conditioners, may provide a solution.
John Wagaman, account manager, processed ingredients group, Blue Diamond Growers, Sacramento, CA, notes that, in the past, the bias leaned toward using pecans and walnuts over almonds in breads because their softer texture was less likely to tear the bread during slicing. But that objection is overcome by using a smaller-particulate almond, he says.
Butter me up
Nuts and nut pieces have less of an effect on the structure of pastry filling, although Martel notes that nuts are generally added after the filling has been cooked in order to protect the integrity of the nut without disrupting the gelling of starches. While most pastry fillings use either coarse or finely ground nuts, she notes, the real stars in nut-based fillings are pastes and butters.
Versatile almond butters and pastes are picking up interest in bakery applications and are popular in fresh bakery as center fillings, Maan says. Almond paste, made by grinding blanched almonds with sugar to a fine texture, is typically more than 50% almond by weight, although that proportion can vary to suit functionality or cost. Making the paste out of natural, skin-on almonds, she says, adds a rustic appearance, some fiber and slightly darker flavor notes than a paste made with blanched almonds.
Because almond paste is a well-homogenized product, Maan says, its oil is sufficiently bound to remain stable in bakery applications. Almond butter, however, is a different story. While not a problem in fresh bakery, in shelf-stable goods, the oil in almond butter would behave like other vegetable oils, she says, perhaps migrating and softening the product. Thus, almond butter may need to be mixed with other vegetable fat to become a stable filling ingredient for shelf-stable bakery applications, she says. Almond butter is compatible with any baking fat, and the mixing ratio will depend on taste, mouthfeel, etc., she says. With about 50% oil, not all almond butters oil is in free-flow form. But, she says, if its finely ground or homogenized, formulators can replace one part vegetable oil with two parts almond butter, giving dough good flowability or elasticity. If almond butter is used for complete replacement of vegetable oil, mixing the dough longer helps release almond into the dough.
Peanut butter goes dry
Peanut boosters offer another solution for mitigating fat migration in baked goods: peanut flour, which "increases the savory component of peanuts in baking, Fenn says. But its real advantage lies in averting some of the issues that accompany formulating with common peanut ingredients, especially peanut butter.
When bakers use a standard peanut butter, youve got a hard fat versus a liquid fat at room temperature in peanut butter, and the two of them dont work very well together, explains Bruce Cotts, vice president, specialty products, Golden Peanut Company, LLC, Alpharetta, GA. Peanut flour, he says, can absorb that fat in both confections and in baked goods, such that the oil in a peanut-butter-filled wafer sandwich wont migrate into the wafers and make them greasy and soggy. The substitution ratio will vary by formula, he says, but I would say that in 90% of the cases, youd need only 3% to 5% of a 28%-fat peanut flour in a filling to absorb that excess oil.
Cottss company presses its peanut flours to fat levels of 12% and 28%, with the latter being about as fatty as you can get while remaining flowable. (Protein content ranges from about 40% to the mid-50% range, and fiber levels hover around 10% to 13%.) Contrast that with peanut butter, which is about 50% oil. Thats why he calls peanut flour dry peanut butter, if you will. The only difference is its got less fat and it doesnt have any sugar or salt. His company makes it via a natural, physical process whereby peanuts are ground into a powder and mechanically pressed to express the oil, leaving a 100%-peanut product. Depending on how long you press it, that will determine what your final fat level is, he says.
In fillings, the flour adds flavor, body and protein while reducing fat and controlling its migration. And its easier to handle than peanut butter. You can get all your flavor from the flour and be able to scoop it out and measure it properly, versus peanut butter, which will stick to anything you scoop it out with, any vessel you weigh it in, any piece of equipment youve got, Cotts says. And where peanut oil and a standard hard fat will make an icing soft and gooey, he adds, peanut flour gives you your color and your flavor without all that fat.
Fenn suggests using peanut flour to create crackers and flatbreads, or alongside other flours to make muffins or cakes.
But, Cotts notes substitution of nut for wheat flour is by no means one-to-one. If you make bread entirely out of peanut flour, youre going to make hockey pucks, he says. His guideline is to begin with a 25% substitution of peanut flour and go from there, judging results in terms of desired peanut flavorthe higher-fat flours are particularly high-impactand baked-good texture.
Almonds get floury
Similarly, Maan says that a use level of up to 30% almond flour in place of wheat flour is a good benchmark. The flour, made by milling blanched or natural almonds into a powder, brings flavor, richness and moisture retention.
Almond meal differs from almond flour in that its often made from sift-outs of sliced or slivered almonds ground into a fine powder that tends to be coarser than flour. However, says Maan, either can be used in place of some or all of the flour in many baked goods, such as pie crusts, cookie doughs or muffin batters. Both bind free moisture in a formula, serving a barrier function in fruit pies and helping to thicken cream and fruit fillings.
John Csukor, president and CEO, KOR Food Innovation, Ashland, VA, and the California almond industrys resident culinary expert, advises using the coarser ingredients to lend an increased crunch and texture to the crust and exterior of yeast breads, while the finer grinds may be used to soften batters or quick breads. Hes found that the flours shorten gluten strands in doughs, giving the products a more-tender finish. They do this merely by bulking and interrupting the formation of longer strands. Therefore, we use them for that characteristic softening without any adverse effects. He recently developed a gluten-free almond breakfast bar that combines almond flour, rice flour, a flaxseed preparation, and a touch of guar gum to produce a wonderfully soft, chewy dough enrobing a date and almond-paste filling. Another novel use for the meal is as a surfactant, as Csukor calls it, underneath pizza doughthink cornmealto prevent sticking. In such a high-heat application, Csukor suggests using raw meal to avoid burning.
Kimberly J. Decker, a California-based technical writer, has a B.S. in consumer food science with a minor in English from the University of California, Davis. She lives in the San Francisco Bay Area, where she enjoys eating and writing about food. You can reach her at [email protected].
Healthy Halos
No amount of nuts will turn a super-duper brownie bar into a bona fide health food, but never underestimate the appeal that even a qualified health claimwhich is what FDA granted almonds, hazelnuts, peanuts, pecans, some pine nuts, pistachios and walnuts in 2003can bring. According to the claim, Scientific evidence suggests, but does not prove, that eating 1.5 oz. per day of most nuts as part of a diet low in saturated fat and cholesterol may reduce the risk of heart disease.
John Wagaman, account manager, processed ingredients group, Blue Diamond Growers, Sacramento, CA, notes that, while a baked good typically would not qualify for a health claim, the inclusion of almondsknown by consumers to qualify for a heart-healthy claimwould make a baked product more appealing and, in a sense, grant additional permission to enjoy the product.
Safety First
No discussion of nuts would be complete without a nod to safetyfrom a microbial standpoint and in terms of allergies. On both fronts, nuts have suffered some bad press. But the industry knows that when its consumers are safe and happy, it succeeds. Thus, its redoubled efforts to address public concerns.
The Almond Board of California (ABC), Modesto, CA, has been on the safety beat since at least Sept. 2007, when it implemented a mandatory regulation that all almond products consumed within North America be treated by a validated pasteurization process to achieve a 4-log reduction of Salmonella. The process can be a blanching or slicing process, or raw almond pasteurization process as used by California almond handlers, says Harbinder Maan, manager, North America ingredient and category marketing, ABC. Or it can be the hot-air or oil-roasting process used by food manufacturers. Additionally, the ABC has worked with independent research groups to evaluate several newly accepted pasteurization processes for raw almonds, including chemical fumigation and thermal treatment. The findings indicate that these pasteurization processes didnt cause discernible degradation in shelf stability of raw almonds, she says.
As for allergenicity, its a fact of life for some consumers, forcing manufacturers to address it through assiduous isolation of nut-containing products from those made without. Standard protocol for raw material segregation of nuts, allergen-cleaning procedures and segregation of finished goods must be carried out, says Everett Ed Dudley, director of R&D, John B. Sanfilippo & Son, Inc., Elgin, IL. Labeling is as with any allergen and should be called out in an allergen statement. Since most facilities that handle tree nuts also handle peanuts, it is safest to list both on the allergen statement.
Nut Inspiration
When looking for creative inspiration, the nuts themselves are enough to get the imagination going. Beyond the ubiquitous almond and walnut, Im seeing more pistachios and hazelnuts being used, says Brian Wood, product developer, FullBloom Baking Company, Newark, CA. Pistachios are great for adding color and smooth, subtle flavor, whereas roasted hazelnuts can really add a unique profile, as well as enhanced visual and textural qualities. We also use pecans for their rich flavor.
Tina Salter, author of the cookbook Nuts, and consultant, California Walnut Commission, Folsom, CA, looks to cheese plates as models for recipe development, suggesting that bakers twist the classic pairing of walnuts with pears and blue cheese into a sweet-savory muffin or walnut-cheese bread. And a raspberry-walnut scone would be lovely, too, she says. Walnuts work with berries and banana combinations.
For a treasure-trove of nut-filled ideas, look to the baking capitals of Europe. Thats where hazelnuts really come into their own, notes Polly Owen, manager, Hazelnut Marketing Board, Portland, OR. In the United States, they are most likely found in breads and on rolls, she says. But if one looks beyond the U.S. borders to Europe, hazelnuts can be found in most everything, including pie crusts, cinnamon rollscalled schnecken when hazelnuts are usedbreads, muffins and cookies.
The same goes for almonds. Globally, almonds play a powerful role in baked goods, says John Wagaman, account manager, processed ingredients group, Blue Diamond Growers, Sacramento, CA. Europe provides many examples of quality baked goods featuring almondsthink marzipan.
Harbinder Maan, manager, North America ingredient and category marketing, Almond Board of California (ABC), Modesto, CA, notes that French patisserie has a long tradition of almond usage. More than 20 classic French pastries require almonds to be truly authentic. Some formerly recherché Euro-chic desserts are entering the American mainstream, not the least of which are French macarons. Just in the past few years, she says, ABC has seen an explosion of French macarons appearing in American pastry shops and on retail shelves, suggesting that this traditional application of almond flour is gaining new recognition and appreciation in the United States and other countries outside of France.
Photo: California Walnut Commission
Subscribe and receive the latest insights on the healthy food and beverage industry.
Join 47,000+ members. Yes, it's completely free.
You May Also Like
---