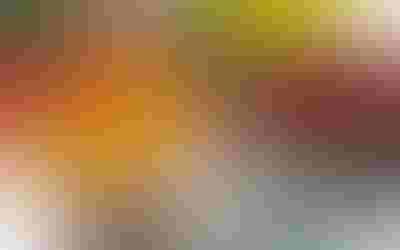 Top Carotenoid Considerations for Formulators
Carotenoids face stability challenges from heat, light and oxygen, making delivery a crucial factor.

The future growth of the market depends on increased education for consumers on the various carotenoids and their health benefits.

Technology and research are driving the market for carotenoids.
Consumers may still think first of beta-carotene when talk turns to carotenoids, but this is changing. "The best known carotenoid is beta-carotene, which has received some negative press," said Gerald Cysewski, chief science officer and executive vice president of Cyanotech. "Consumers are beginning to understand that there are many different types of carotenoids that are beneficial and, in nature, these different type of carotenoids are found in brightly colored foods." He noted consumers are also beginning to understand the health benefits of carotenoids are due to their antioxidant properties.
The optimism for other carotenoids, including lutein, zeaxanthin, astaxanthin and lycopene, is not just hearsay. In its recent report, The Global Market for Carotenoids," BCC Research noted beta-carotene is still the best selling carotenoid globally, accounting for $261 million in 2010, and expected to reach $334 million in 2018 (3.1 percent compound annual growth rate [CAGR]). Total carotenoid sales in 2010 reached $1.2 billion, a value projected to climb to more than $1.8 billion by 2018 (2.3 percent CAGR). Of the "other" carotenoids, lutein generated $233 million in 2010 (3.6 percent CAGR); astaxanthin brought in $226 million (1.4 percent CAGR); lycopene logged $66 million (3.1 percent CAGR); capsanthin posted $130 million in revenues (1.7 percent CAGR); canthaxanthin accounted for $129 million (-2.0 percent CAGR); and zeaxanthin made $16 million (1.5 percent CAGR).
Philip Domenico, Ph.D., a human nutrition scientist for OmniActive Health technologies, reported lutein business has been strong, and the company has experienced excellent growth in this segment, primarily due to continuing education about lutein and its benefits for consumers, especially for eye health. "Another important contributing factor has been that supplement companies have been upgrading their lutein products to contain more meaningful and efficacious dosages of lutein," he said. On the other hand, zeaxanthin is a predominately untapped opportunity, he said. "It provides supplement companies an additional option to include another powerful carotenoid in formulations and market the health benefits."
The synergy between lutein and zeaxanthin continues to be explored in scientific trials, according to Aparna Parikh, MBA, RD, senior marketing manager, FloraGLO® Lutein, OPTISHARP Zeaxanthin, redivivo® Lycopene, DSM Nutritional Products; for example, DSM is providing FloraGLO Lutein, OPTISHARP Zeaxanthin and ROPUFA Omega-3s for the AREDS2 clinical trial on the effects of these nutrients on eye health. "These studies demonstrate that FloraGLO Lutein and OPTISHARP zeaxanthin in the macula can act as an optical filter to: (1) reduce glare discomfort, (2) reduce glare disability and photo stress, (3) improve visibility and image resolution by absorbing scattered blue light and (4) improve spatial vision by enhancing contrast," she said. "In addition to these benefits of lutein and zeaxanthin acting as a optical filter of blue light, they have biological roles including (1) protecting the retinal tissue from the damaging effects of blue light and (2) enhancing neural gap junction communication, allowing for faster visual processing."
Cysewski, who noted astaxanthin is just beginning to be recognized by the health-conscious consumer not only for its superior antioxidant power, but also for its anti-inflammatory properties, called the market for carotenoid ingredients "very strong and growinglutein and zeaxanthin for eye health; lycopene for prostate health; and astaxanthin for skin, brain, eye and joint health."
Carotenoid insiders all point to education as the light that will lead the way for market growth in this category. "Future growth for both lutein and zeaxanthin is going to be dependent on continuing consumer education on the nutritional relevance of these crucial carotenoids," Domenico said. "OmniActive is investing in consumer education and supporting supplement companies interested in spreading the good word."
Cysewski pointed out the major challenge to future growth of the carotenoid market is educating not only the health-conscious consumer, but also the mainstream consumer, about the health benefits of carotenoids. "Cyanotech is undertaking this education effort through direct advertisements and public relations activities. We also plan to conduct human clinical studies to further support health benefits of astaxanthin," he added.
Formulation Challenges
For all the education, carotenoid science is especially important to formulators and marketers. In its report, BCC Research noted manufacturers must be at the forefront of carotenoid technology to stay viable. The firm further explained no new types of carotenoids have entered the market, which makes technological advancements of currently marketed carotenoids even more important. Technology and science can help set companies apart from competition, as BCC noted the consolidation of several carotenoid companies and the disappearance of several companies that were in the market during the mid-2000s have left a limited number of companies to dominate the global carotenoid market.
There are several formulation challenges to working with carotenoids, which many suppliers have tackled in partnership with finished product customers. " To avoid challenges when using carotenoids, the formulator should identify the correct commercial product form suited to the application, and consult with the supplier to understand how it should be used," said Gus Castro, senior technical marketing manager for beverages at DSM. "There are also usually different product formsof the same typeand therefore the objectives of the application need some discussion with the supplier. Once the product form has been identified, the most important application issue is to make sure that the carotenoid is fully dispersed in the application or if it is a powdered form, that it is fully hydrated and dispersed in water before using. Ideally, a pre-blend of the carotenoid is made either as an oily blend or an aqueous dispersionand metered into the application during production. "
Other companies are focusing more on the bioavailability aspects of particular carotenoids. Astaxanthin, for example, is poorly soluble in water, so Capsugel has worked to solublize it into in a lipid or oil-based form to enhance bioavailability and effectiveness. "Because astaxanthin is also an unstable phytochemical, the liquid form is best delivered in a hard capsule with technology for protection from oxygen that might degrade the formula," said Danya Thompson, formulator at Capsugel's Licaps® formulation center. She said to deal with these characteristics and issues, her team first pairs astaxanthin with a lipid carrier compatible with astaxanthins chemical structure to cause it to self-emulsify; the liquefied astaxanthin is encapsulated in Capsugels Licaps® capsule, a proprietary technology for oxygen protection. "After filling the capsule with the liquid, it is flushed with nitrogen to eliminate all oxygen, evidenced by the nitrogen bubble visible through the transparent capsule," she explained. "Then, through a fusion process, the capsule itself provides an effective barrier to oxygen. A robust seal is created by fusing the outer shells, using a precision microspray process (LEMS), resulting in no need for banding or leakage." She noted an in vitro CaCO2 study showed a significant difference between the permeability of a liquid encapsulated formulation and a tablet formulation.
In addition to using these solutions for astaxanthin alone, Capsugel has paired astaxathin with other natural ingredients that contain low levels of the carotenoid, such as krill oil. "It naturally contains some astaxanthin, but the delivery can be enhanced," Thompson said.
According to Cysewski, astaxanthin is the most powerful natural antioxidant known and, as such, must be protected from oxygen during formulation and in the final product packaging to ensure the stated label potency is delivered. "Carotenoids must be formulated in either an oil base or microencapsulated into powder for use in solid dosages," he said, noting microencapsulation is an expensive process. "The intense color of carotenoids can also be a challenge because of the color imparted to the final product."
Domenico agreed the biggest challenge carotenoids pose in finished formulations is that they are highly labile and sensitive to oxygen, light and heat. "This requires manufacturers of carotenoids to formulate them with sufficient protection by providing stability to the ingredient, which enables supplement companies to meet label claims in finished products through product shelf life," he confirmed. "Unfortunately, traditional technologies typically use powder or granular versions of actives that do not provide sufficient protection to carotenoids such as lutein and zeaxanthin. Actives present on the surface are left vulnerable to oxygen and light and, when compressed to tablet, the active leaches into the tablet matrix, rendering it unstable." He explained this requires supplement companies to include huge overages, thereby increasing cost in use. "Oftentimes, companies have used gelatin as a stabilizing agent, which is hygroscopic and requires controlled humidity," he added. "Lastly, such ingredient formats limit the quantity of active that can be loaded successfully, typically in the range of 5-percent actives, making it very difficult for formulators to include efficacious dosages in finished formulations."
To overcome these limitations, OmniActive developed a novel OmniBead beadletting technology to stabilize the delivery of nutrients. It was first created specifically for lutein, but has since been successfully adapted to other carotenoids and unstable ingredients. Among the advantages of beadlets using this technology are: Ingredients are stabilized in layered coatings that protect ingredients from oxygen and moisture; finished particles are small enough that they can be tableted without harming the protective coatings or leaching the ingredients out of the tablets; beadlets are not hygroscopic and do not require controlled humidity; beadlets are made with 100-percent vegetarian ingredients catering to a larger consumer base; and the technology allows for higher carotenoid loading OmniActive said its current products contain up to 25 percent active, which enables more efficacious dosages in formulations while lessening bulk material used.
Similarly, DSM developed Actilease, branded, patented beadlet technology for formulating active ingredients in micro-sized particles protected by a water-soluble shell. Dinesh Venkateswaran, DSM's senior technical marketing manager for dietary supplements, commented, "Carotenoids formulated with this technology have superior disintegration, which leads to best dissolution making the active available for human absorption."
Carotenoids have much to offer formulators looking to bring rich color and antioxidant-based health benefits to formulas for eye, prostate, skin, brain and joint health. With the changes in the market, including consolidation, seeking out carotenoid suppliers backed by science, technology and formulation experience will be crucial to the success of any product featuring carotenoid ingredients.
Subscribe and receive the latest insights on the healthy food and beverage industry.
Join 47,000+ members. Yes, it's completely free.
You May Also Like
---