Exploring plant-based, vegan beauty
Exploring plant-based, vegan beauty
Antioxidant-rich herbs and botanicals popular from ayurveda to traditional Chinese medicine (TCM) are bringing more plant power to the healthy aging space.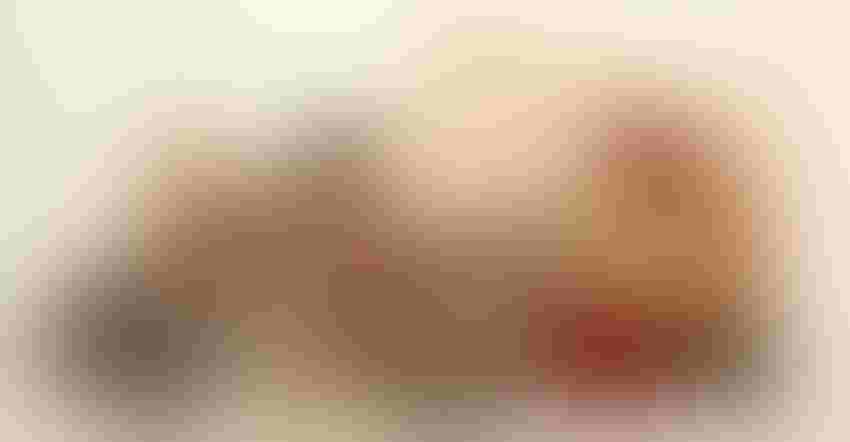 Aging is a complicated process starting at the cellular level and involving inflammation, oxidation and DNA damage. Nutrients and other phytochemicals in plants can address these mechanisms and promote healthier, longer lives.
Skin aging mechanics
Whole-food, plant-based diets have been linked to improved skin relative to aging factors, including skin-level DNA integrity, inflammation and oxidation, as evidenced in a 2020 research review from dermatologists at two U.S.-based medical centers.1 On the tips of chromosomes are telomeres that protect the strands of DNA from unraveling and fraying. As telomeres shorten, cells move closer to death. Telomerase enzymes are key to rebuilding telomeres and are influenced by diet and lifestyle, with plant-based diets associated with lengthening telomeres.
Further, plant-based diets rich in grains, legumes, vegetables and fruits have been shown to decrease systemic inflammation and blood vessel aging, which is important for healthy skin. Inflammatory processes speed up visual skin aging, including increased wrinkles, sallowness (yellowing, poor complexion) and dryness, and decreased elasticity. However, functional degradation is also a consequence, including skin permeability, angiogenesis, lipid and sweat production, immune function, and vitamin D synthesis. Ultraviolet (UV) radiation exposure, smoking and pollution are key lifestyle and environmental factors.
One inflammatory culprit is advanced glycation end-product (AGE), one of a group of troublemakers called gerontotoxins that contribute to cell aging. AGEs form when sugars like fructose and glucose bond with either a protein or a lipid. These aptly named end products can negatively impact vital extracellular proteins important to skin, such as collagen, elastin, vitronectin and laminin. The research review found evidence that among diets, high meat and processed food consumption were linked to the highest AGE levels, while whole-food plant-based diets were associated with the lowest AGE counts.
Finally, oxidation is well-known and discussed in aging expert circles as having a particular impact on skin health and longevity. The simple math is that reactive oxygen species (ROS) can cause oxidative damage, and neutralizing ROS by unleashing squadrons of antioxidants can limit and reduce such damage. Of course, the body has endogenous antioxidants, but also benefits greatly from antioxidants acquired through the diet. Antioxidants lose electrons when neutralizing ROS and, thus, need to be replenished.
Plant foods contain an average of 64 times more antioxidants than animal products, with herbs/spices and traditional plant medicines containing the highest levels of antioxidants in a study comparing products in a global food database.2 Sangre de Grado—the sap of the Croton lechleri tree found in Peru and used traditionally as antiviral, antiseptic and antihemorrhagic medicine, as well as for wound healing—has exceptionally high levels of antioxidant compounds, including proanthocyanidins. Ayurveda's triphala—a traditional medicinal blend of extracts from Emblica officinalis (amalaki), Terminalia bellerica (bibhitaki) and Terminalia chebula (haritaki) used for antibacterial and wound healing purposes—and arjuna (Terminalia arjuna) also demonstrated high antioxidant content, as did goshuyu-tou, a Tetradium ruticarpum preparation from Japan's kampo medicine tradition but rooted in traditional Chinese medicine (TCM).
Medium to high antioxidant content was found in several other plant-based foods such as berries (flavonoids, tannins, stilbenoids, phenolic acids and lignans), nuts and seeds (flavonoids, especially in the thin skin or pellicle surrounding the kernel), beverages (catechins and other flavonoids in tea, and polyphenols in coffee), cereal grains, chocolate and fruits/vegetables.
Supplementing for healthy skin
Ingredient suppliers have developed and launched products in several of these antioxidant-rich food groups, and ongoing research is showing benefits to healthy aging.
In a series of studies, Greek researchers found various formulation combinations of plant extracts, vitamins (D, E, C and Bs), essential fatty acids (EFAs), amino acids and probiotics can activate telomerase activity and help sustain telomere length.3,4
A study focused on an extract of TCM botanical astragalus (Astragalus membranaceus) found healthy subjects taking the product (TA-65, from Geron Corp.) for one year had longer telomeres than those in the placebo group, who experienced telomere shortening.5 The research was sponsored and largely performed by the ingredient manufacturer and its finished supplement brands.
TCM herbal remedy Zanthoxylum bungeanum (Sichuan peppers) targets photoaging and wrinkles. Its constituent hydroxy-alpha-sanshool (aka sanshool) was shown to protect human dermal fibroblast cells from UVB radiation and expression of matrix metalloproteinase (MMP)-1 and -3, inflammatory enzymes which can degrade collagen.6 In addition to delaying inflammation, the ingredient increased cell viability and induced autophagy, the process of cleaning out damaged cells to support regeneration of new cells.
To test this herb in 2% pericarp extract—the pericarp extract (called maxim) is important to TCM—Chinese researchers treated 35- to 60-year-old female subjects for 30 days and measured skin roughness, hydration and elasticity.7 They found the pericarp extract was effective against crow's-feet wrinkles.
According to a May 2021 global study conducted by Givaudan, maker of a Z. bungeanum beauty product called Zanthalene, 86% of consumers are currently interested in beauty products containing natural ingredients that help soothe skin discomfort while smoothing for a Botox-like effect.
Japanese cherry blossom trees (Prunus lannesiana) are known for their beautiful spring flowering show, but these flowers are also rich in flavonol glucosides and other constituents that can suppress AGEs and AGE-induced fibroblast damage.8 Subsequent research demonstrated cherry blossom extract provides both in vivo and in vitro anti-inflammatory effects and reduced erythema, indicating the herb is a promising product for skin inflammation.9
To read this article in its entirety, check out the "Personal approaches to healthy aging" digital magazine.
References
1 Solway J et al. "Diet and Dermatology: The Role of a Whole-food, Plant-based Diet in Preventing and Reversing Skin Aging—A Review." J Clin Aesthet Dermatol. 2020;13(5):38-43.
2 Carlsen MH et al. "The total antioxidant content of more than 3100 foods, beverages, spices, herbs and supplements used worldwide." Nutr J. 2010;9:3.
3 Tsoukalas D et al. "Discovery of potent telomerase activators: Unfolding new therapeutic and anti-aging perspectives." Mol Med Rep. 2019;20(4):3701-3708.
4 Tsoukalas D et al. "Association of nutraceutical supplements with longer telomere length." Int J Mol Med. 2019;44(1):218-226.
5 Salvador L et al. "A Natural Product Telomerase Activator Lengthens Telomeres in Humans: A Randomized, Double Blind, and Placebo Controlled Study." Rejuvenation Res. 2016;19(6):478-484.
6 Hao D et al. "Sanshool improves UVB-induced skin photodamage by targeting JAK2/STAT3-dependent autophagy." Cell Death Dis. 2019;10(1):19.
7 Zeng X et al. "The effect of Zanthoxylum bungeanum maxim extract on crow's feet: A double-blind, split-face trial." Dermatol Ther. 2019;32(6):e13079.
8 Shimoda H et al. "Effect of cinnamoyl and flavonol glucosides derived from cherry blossom flowers on the production of advanced glycation end products (AGEs) and AGE-induced fibroblast apoptosis." Phytother Res. 2011;25(9):1328-1335.
9 Zhang YQ et al. "The anti-inflammatory effect of cherry blossom extract (Prunus yedoensis) used in soothing skincare product." Int J Cosmet Sci. 2014;36(6):527-530.
Subscribe and receive the latest insights on the health and nutrition industry.
Join 37,000+ members. Yes, it's completely free.
You May Also Like
---