Nut Nutrition
Nut Nutrition
Nuts can be a healthy snack consumed in moderation to help lower the risk of heart disease and reduce low-density lipoprotein cholesterol.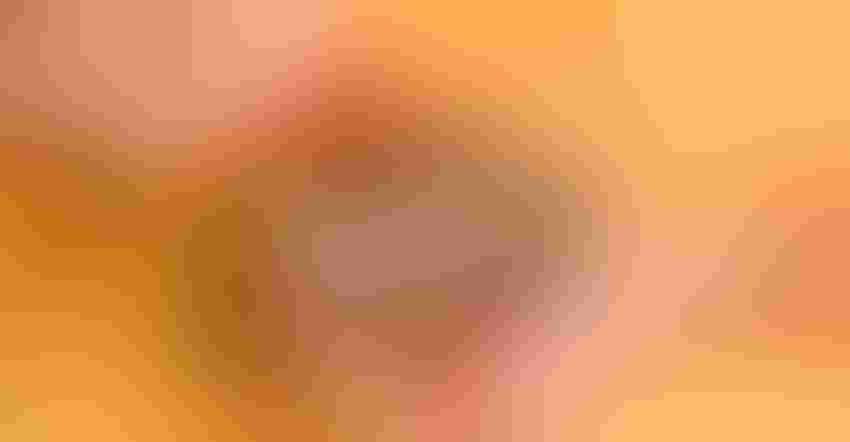 If archaeologists were to discover an ancient Persian painting entitled "Camels Playing Cards," it's a sure bet you'd see bowls of walnuts being eaten by the two-humped gamblers. Ancient Greek and Roman healers were often heard telling patients, "Take two hazelnuts and call me in the morning." Who knew that so many years later nuts would find their way into the realm of health foods?
Nut as bad as you think
Some might argue that nuts can't possibly be good for you because they're high in fat. Well, they're half right. Nuts range from 11 to 22 grams of fat per ounce, roughly 38% to 78% fat. The fat in nuts is mostly (80% on average) unsaturated, containing one (monounsaturated) or more (polyunsaturated) double bonds. When consumed in moderation, unsaturated fats can help lower the risk of heart disease and reduce low-density lipoprotein (LDL, or "bad," cholesterol) without affecting high-density lipoprotein (HDL, or "good," cholesterol).
In 2003, FDA recognized the heart-health benefits of nuts with a qualified health claim: "Scientific evidence suggests but does not prove that eating 1.5 oz. per day of most nuts (peanuts, almonds, Brazil nuts, cashew nuts, hazelnuts, macadamia nuts, pecans, pine nuts, pistachio nuts and walnuts), as part of a diet low in saturated fat and cholesterol, may reduce the risk of heart disease."
Nuts are, in general, rich in oleic acid. Macadamias are unique; they are the only nut that contain palmitoleic acid, a monounsaturate believed to aid fat metabolism and reduce the body's fat buildup.
Walnuts, according to the California Walnut Board, Folsom, have gained "superfood" status for their level of omega-3 fatty acids, which are associated with positive effects on many conditions, including blood pressure, asthma, triglyceride levels, heart disease and cancer. Walnuts deliver 2.6 grams alpha-linolenic acid (ALA) per ounce raw material, well beyond the National Academy of Science's daily recommendation for omega-3 intake for men (1.6 grams) and women (1.1 grams). Plus, 100 grams of walnuts also contain 0.7 mg vitamin E (14% Daily Value, or DV), 0.5 mg vitamin B6 (28% DV), 346 mg of phosphorous (35% DV), 441 mg potassium (14% DV), 3.1 mg zinc (21% DV) and 1.6 mg copper (70% DV).
Fat in almonds also provides benefit to digestive health. A study published in the July 2008 issue of Applied and Environmental Microbiology (74:4,264-4,270), identified potential prebiotic properties of almonds. It found that finely ground almonds significantly increased the levels of certain beneficial gut bacteria. This effect was not seen when the fat content was removed from the almond preparation, suggesting that the beneficial bacteria use the almond lipid for growth, and this is the basis for the prebiotic effect of almonds. Almonds are also a rich source of vitamin E, 25.80 mg per 100 grams (123% DV), in addition to 29 mcg per 100 grams of folate (7% DV), and 0.81 mg per 100 grams riboflavin (53% DV). A 100-gram serving of almonds also provides 275 mg of magnesium (70% DV), 248 mg of calcium (21% DV), 1.10 mg of copper (53% DV) and 3.36 mg of zinc (21% DV).
Health nuts
A study published in the Sept. 2008 issue of the American Journal of Clinical Nutrition (88:651-659) concluded that pistachios beneficially affect cardiovascular disease risk factors "in a dose-dependent manner." Additionally, 100 grams of pistachios contain 1,025 mg of potassium (28% DV), 107 mg of calcium (14% DV) and 490 mg of phosphorous (53% DV), along with 1.7 mg of vitamin B6 (88% DV), 0.87 mg of thiamin (53% DV) and 51 mcg of folate (14% DV).
Empty a 100-gram bowl of pecans and you'll consume 70 mg of calcium (7% DV), 121 mg of magnesium (28% DV), 410 mg of potassium (14%DV), 277 mg of phosphorous (28% DV) and 4.53 mg of zinc (28% DV). Pecans also contain modest vitamin A, B and E levels.
Nuthing to phyt about
Nuts are rich in phytochemicals. Developed by plants to protect themselves from the environment, phytochemicals also promote health in those who consume them. Phytochemicals are believed to affect the initiation and progression of numerous chronic and degenerative conditions.
Phytosterols, lipids that are similar to mammalian cholesterol in shape and function, lower the amount of cholesterol absorbed, thus lowering serum cholesterol. Levels of 1.5 to 1.8 grams per day can reduce absorption by up to 40%, while 2.2 grams can yield a 60% reduction. Pistachios contain approximately 280 mg per 100 grams; macadamias, 198; almonds, 187; pecans, 150; hazelnuts, 120; walnuts, 113; and Brazil nuts, 95.
Proanthocyanidins are phytochemicals present in most, but not all, nuts. Hazelnuts have earned their superfood status by providing the highest level of proanthocyanidins among nuts: 501 mg per 100 grams. It's important to note that removal of the nuts' skins also removes two-thirds of the proanthocyanidins.
Studies cited by the Hazelnut Council, Jersey City, NJ, indicate that antioxidants found in proanthocyanidins may have the ability to strengthen blood vessels, suppress platelet stickiness in arteries, reduce the risk of cardiovascular disease, delay the onset of dementia and lower blood pressure. A study published in the Journal of Agricultural and Food Chemistry (2004; 52(12):4,026-4,037) indicated that hazelnuts have one of the highest ORAC (oxygen radical absorbance capacity) values among superfoods, placing it third, after pecans and walnuts, in the ORAC race.
In a report published in the Asia Pacific Journal of Clinical Nutrition (2008; 17, Supplement 1:329-332), however, researchers at Tufts University, Boston, suggest that "assessments of total antioxidant capacity appear largely dependent upon phenolic compounds in nuts."
"Phenolics" refers to a family of compounds including simple phenolics, flavonoids, stilbenes and several polyphenolics, all of which have hydroxyl groups conjugated to an aromatic hydrocarbon group. Present in all plants, nuts with high levels of phenols include pecans, pistachios and walnuts. Lowest levels are found in Brazil nuts, pine nuts and macadamias.
R. J. Foster is a wordsmith with a B.S. in food science from the University of Wisconsin-Madison and over 15 years of experience in the food industry.
Subscribe and receive the latest insights on the healthy food and beverage industry.
Join 47,000+ members. Yes, it's completely free.
You May Also Like
---