SupplySide West News, Hot Ingredients and More
SupplySide West News, Hot Ingredients and More
SupplySide West 2015 kicks off today at Mandalay Bay in Las Vegas. To see the full agenda, including show floor times, which opens at 10 a.m. on Wednesday, Oct. 7, visit SupplySideShow.com/agenda. In the meantime, stay up to date on SupplySide news, presentations, ingredient launches and more on our Top Happenings Blog.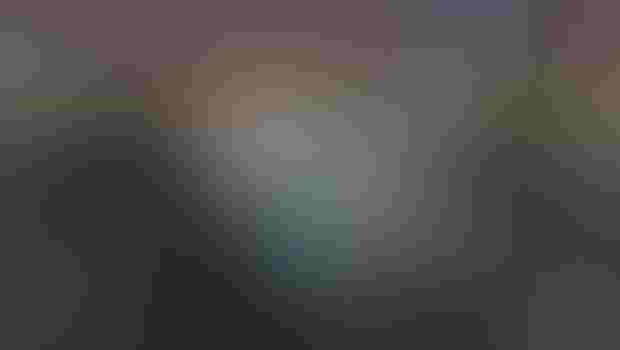 SupplySide West 2015 kicks off today at Mandalay Bay in Las Vegas. To see the full agenda, including show floor times, which opens at 10 a.m. on Wednesday, Oct. 7, visit SupplySideShow.com/agenda. In the meantime, stay up to date on SupplySide news, presentations, ingredient launches and more on our Top Industry Happenings blog. 
Maypro Industries, a global supplier of specialty nutritional ingredients, completed a structured financing of Good Superfoods LLC, a Boise-based manufacturer of functional chocolate products, nutrition bars and powders. Operating under a new corporate name, NutriWelle, the company will split itself into two divisions: one dedicated to private-label manufacturing and the other focused on marketing a line of finished products under the Good Superfoods®, Agami® and Good Cacao® brand names.
"This investment partnership is the core of our growth strategy to expand into the functional foods business" commented Dan Lifton, president of Maypro's proprietary and branded ingredients division. "It also represents our confidence in the management team and our desire to back the founder of the company to help take it to the next level."
Visit NutriWelle at SupplySide West at booth #708 and Maypro Industries at booth #615.
Bifodan A/S, a provider of probiotic solutions, published the results of a clinical trial on its patented EcoVag® probiotic capsule in BMC Infectious Diseases (2015;15:255).In the open label-clinical trial, 40 Scandinavian women were diagnosed with bacterial vaginosis (BV) or vulvovaginal candidiasis (VVC). In trial I, women with BV were treated with clindamycin and metronidazole antibotics followed by vaginal EcoVag capsules, containing Lactobacillus rhamnosus DSM 14870 and Lactobacillus gasseri DSM 14869, for five consecutive days after each antibiotic treatment. In trial II, women were recruited in three groups as follows: women with BV receiving clindamycin and metronidazole treatment together with a prolonged administration of EcoVag (10 consecutive days after each antibiotic treatment followed by weekly administration of capsules for next four months), women with recurrent VVC receiving extended fluconazole and EcoVag treatment, and women receiving extended fluconazole treatments only.
The six-month cure rate for BV was 50 percent in trial I while both the six- and 12-month cure rates were 67 percent in trial II. The six- and 12-month cure rates for VVC were 100 percent and 89 percent in women receiving fluconazole and EcoVag, and 100 percent and 70 percent in women receiving fluconazole only. The frequency of isolation of any Lactobacillus species during the course of the study was associated with cure of BV in trial I and II, whereas the frequency of isolation of EcoVag strains was significantly associated with the cure of BV in trial II only. As previously observed, a change in sexual partner was associated with relapse of BV with an odds ratio of 77. The researchers concluded treatment with antibiotics or anti-fungal medication in combination with EcoVag provides long-term cure against recurrent BV and recurrent VVC.
"While the positive influence of EcoVag in reducing the risk of recurrent BV has been proven in other clinical trials, this new publication marks the first time that a similar positive relationship is established for preventing recurrent VVC," said Niels Peter Bak, EcoVag business unit manager. "This is very encouraging and suggests that EcoVag has a broader application and also should be recommended for use in combination with treatment with antifungals to reduce the risk of recurrent yeast infections."
Visit Bifodan A/S at SupplySide West at booth #543.
Shaheen Majeed, marketing director for Sabinsa Corp., will give two presentations on different aspects of achieving quality at SupplySide West 2015.
Tuesday, Oct. 6, from 4 - 4:50 p.m.  
"Leveraging Ingredient Quality to Build an Effective Content Marketing Strategy"
Majeed and Todd Pauli, partner, strategic marketing of The Shelton Group, will co-present this presentation, which will provide attendees a roadmap to marketing product quality.

Wednesday, Oct. 7, from 12:35 – 12:40 p.m.
Anurag Pande, Ph.D., vice president of scientific affairs, will introduce Sabinsa's latest offering for cognitive heath, Sabroxy™, as part of Ingredient Launchpad at the SupplySide Central stage at booth #3183.

Friday, Oct. 9, from 9 – 10:30 a.m.
"Exploring Global Supply Issues and Impact on Quality"
Majeed will present this presentation AHPA's Botanical Congress, which contains an overview of successful U.S. and global supply chain strategies, with a focus on availability, quality and adulteration challenges. The presentation will review current U.S. case histories and global supply disruption.
Visit Sabinsa at SupplySide West at booth #4121.  
Alkemist Labs and the America Herbal Pharmacopoeia announced a distribution agreement that will expand the library of reference materials Alkemist offers to their clients as they begin distribution of the AHP-Verified™ Botanical Reference Materials (BRMs). The AHP-Verified BRMs will be available for purchase through the Alkemist e-commerce website along with the existing reference standards offerings.
"Alkemist already sells its own line of Composite Reference Botanical (CRBs) materials as well as the Extrasynthese line of Phytochemical Reference Materials. Having the authority of AHP-Verified BRMs to offer in addition is really exciting," said Elan Sudberg, CEO of Alkemist Labs.
"The need for formally authenticated BRMs is an integral part of GMP compliance," said AHP founder and executive director Roy Upton. "The breadth of our herbarium collections together provides a broad array of most all of the botanicals that companies and labs need to assure their materials conform with independent identification specifications. Our collection of AHP-Verified BRMs and Alkemist CRBs provides industry with two distinctive solutions to their botanical identification challenges."
Visit Alkemist Labs at SupplySide West at booth #1029
Lesaffre Human Care published the findings of a clinical study on ibSium® in United European Gastroenterology Journal (Aug. 21, 2015). In the study multi-centric, randomized, double blind, placebo-controlled trial, a group of 379 healthy volunteers with IBS symptoms received either 500 mg/d of ibSium twice a day or a placebo for 12 weeks, and had to complete an evaluation form of their IBS symptoms daily. One of the main findings throughout the study was IBS subjects with constipation who consumed ibSium experienced a significant relief of their abdominal pain and discomfort versus the placebo group. They also felt significantly less bloated.
Visit Lasaffre Human Care at SupplySide West at booth #1733.
Naturex introduced the clean-label NAT fruits&greens range, which enables supplement manufacturers to enhance their formulas with natural content, while complying with nutraceutical market requirements for transparency and traceability.
At SupplySide West, attendees will be able to sample this new range via Your Garden Lift Kit—an instant-drink application concept developed by Naturex's R&D teams. Three delicious instant drinks, each designed to tackle a specific health issue, include:
Grow orange is a natural energy booster that helps fight stress and fatigue. This instant-drink is formulated with high-quality acerola, whose vitamin C content has been carefully preserved, and potassium-filled coconut water. No artificial colors, flavors or preservatives have been added.

Grow Red is a cocktail of naturally occurring polyphenols with standardized extracts of bilberry and grape skin, well-known for their cardioprotective effects. A 100-percent natural fruit formula with a delightful berry flavor.

Grow green is a detox booster for those who want to improve their digestion and eliminate unwelcome toxins. Artichoke and celery standardized extracts, combined with spinach, celery and tangerine give a stunning green and authentic touch to the taste.
Naturex's rigorous techniques for guaranteeing the quality and traceability of botanical ingredients will be highlighted during the show. Two one-hour sessions will be organized with the authors of the book "Botanicals: Methods and Techniques for Quality & Authenticity", who will share their expertise on this subject.
Visit Naturex at SupplySide West at booth #2111.
Baobab Foods, creator of nutrient-dense superfood products, is launching Baobest™ Organic Moringa Leaf Powders for wholesale and industrial food formulation at SupplySide West. Designed to mix seamlessly into a variety of products to infuse the nutritional power of moringa leaf, Baobest Organic Moringa Leaf Powders are GFSI certified and blend easily with proteins, greens or fruit powders for nutritional powder mixes. The powders can also be added to smoothie bases, baked goods, nutrition bars, granola clusters, cereals and more.
The power is available in two formats:
Raw Powder: minimally processed with a wider range of microbial levels

Low Total Plate Count (LTPC) Powder: employs a dry steam kill step to establish overall lower plate count levels without impacting nutrient values
Visit Baobab Foods at SupplySide West at booth #1628
Subscribe and receive the latest insights on the healthy food and beverage industry.
Join 47,000+ members. Yes, it's completely free.
You May Also Like
---